Hare Krishna and pranams dear devotees,
A few weeks back we read Bhagavad Gita 18.74 verse on our Whatsapp group. I am sharing the verse and my two penny worth of thoughts on it.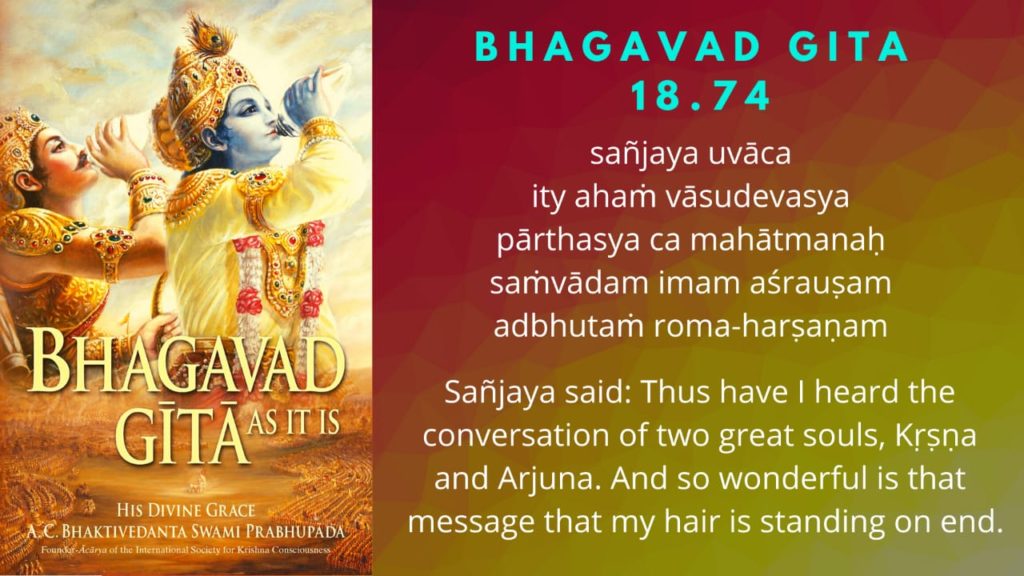 Sanjay is saying that he felt ecstasy after hearing the conversation between Govindadev and Arjuna. It made me think as to how many times I felt ecstatic after reading verses from Bhagavad Gita… not too many.
If we wish to progress in spiritual life then it's very important for us to hear very attentively. Out of nine limbs of bhakti Sravanam or hearing is the most important and most effective. And proper hearing naturally includes following the instructions.
Being Krishna consciousness does not mean becoming a pious Hindu, which is not very different from being a pious Christian or a pious Muslim. I follow a particular faith simply because I am born in it. I have no clue about who is God, what is my relationship with God or what is God's role in my personal life, going back to God doesn't even come in my list of priorities.
The teaching of Bhagavad Gita, on the other hand, is the supreme science- the science of the soul. It's a revelation, which if heard sincerely and from a bonafide source, starts a revolution within us. If we will follow Krishna's instructions then definitely there will be a revolution in our heart. We will find the purpose of our existence and how to reach there.
Srimad Bhagavatam says
On the other hand, that literature which is full of descriptions of the transcendental glories of the name, fame, forms and pastimes of the unlimited Supreme Lord is a different creation, full of transcendental words directed toward bringing about a revolution in the impious lives of this world's misdirected civilization. Such transcendental literatures, even though imperfectly composed, are heard, sung and accepted by purified men who are thoroughly hones.
That's why Srila Prabhupada writes in his purport of Bhagavad Gita 18.74 that if we follow in the footsteps of Arjuna to understand Krishna, then our life will be happy and successful.
Our proposition is to give up all these mental concoctions and come to the spiritual platform. If one comes to the spiritual platform, there will be no more revolution. As Dhruva Maharaja said, nātaḥ paraṁ parama vedmi na yatra vādaḥ: "Now that I am seeing God, I am completely satisfied. Now all kinds of theorizing processes are finished." So God consciousness is the final revolution.
Wouldn't it be wonderful to get goosebumps after reading every single verse of Bhagavad Gita? Don't we have a desire to see God face to face?
We had so many lifetimes, can't we offer just one lifetime to Krishna?
All glories to Srimad Bhagavad Gita
All glories to Srila Prabhupada.
Your servant,
Giriraj dasa