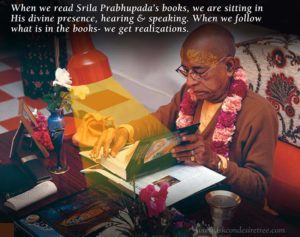 Hare Krishna dear devotees,
We all have our own experiences of reading Srila Prabhupada's books and getting better understanding of our philosophy, principles, etc. As we develop more faith, study his books more carefully, also hear them from the mouth of the pure devotees, then we get realisations in our heart. This blissful and transcendental process forever continues in the life a sincere and a faithful follower, anandambudhi-vardhanam.
Today morning I read a very heart touching purport from Srimad Bhagavatam, (SB 11.3.24p). I am sharing the same with you all, the bold portions are from the above mentioned purport.
Specifically one should study those books which increase one's desire to serve the Supreme Personality of Godhead.
This touched my heart and also gave me an amazing guide on how to  measure how is my reading. After reading a book I can look back and check "has my desire to serve Krishna increased or not?"
The purport then goes on to emphasize that Srila Prabhupada has written so many book for this purpose only  –
'when the principle of svādhyāyam, or Vedic study, is applied to these books, such as Śrīmad-Bhāgavatam, Bhagavad-gītā As It Is, Caitanya-caritāmṛta and The Nectar of Devotion, the sincere reader becomes infused with the ecstatic determination to serve the Supreme Personality of Godhead.'
Simply reading these lines increased my faith in regularly and carefully reading and studying only Srila Prabhupada books and our goal should be to get infused with bhakti, service to Krishna and His devotees.
The purport ends with these lines-
..nor should one try to read many books to increase his false prestige as a so-called scholar. One should read those books which inspire practical spiritual advancement in knowledge and renunciation, as exemplified by the books of Śrīla Prabhupāda.
Our Acharaya says :
If you want to stay in Krsna Consciousness you will have to develop firm faith in Guru and Sastra. Therefore, you must study my books very scrutinizingly, follow the four regulative principles very strictly and chant 16 rounds daily avoiding the ten offenses. Don't take this movement as something cheap.
(Srila Prabhupada's letter to Srutadeva, 30th Oct 1976)
All glories to Sri Guru and Gauranga.
All glories to Srila Prabhupada
Your servant,
Giriraj dasa