Hare Krishna
20th December
vrindayai tulasi-devyai
priyayai keshavasya cha
krishna-bhakti-prade devi
satyavatyai namo namaha
Translation
I offer my repeated obeisances unto Vrnda, Srimati Tulasi Devi, who is very dear to Lord Kesava. O goddess, you bestow devotional service to Lord Krsna and possess the highest truth.
As I started my spiritual journey one part where, mercifully, the faith established early, was with Tulasi Maharani. Before coming into Krishna Consciousness I had seen Tulasi being worshiped at many homes and I understood that she was special and a `holy plant' but nothing more. I also saw her worshiped mainly by the ladies of the house. I would not have offered her water more than 10 times in my whole early life.
As my spiritual journey began one of the first thing to attract me was Tulasi Maharani. I guess it started from the wonderful morning  Tulasi arti in all ISKCON temples. I could not help but get attracted by the devotional mood of the devotees when they worship her. I knew she was special.
I started wearing Kanthi Mala within first few months of coming to ISKCON and that helped me a lot, which I realised much later. It is so purifying to have her next to my vocal cord. Somehow I always wore Kanthi mala close to neck.  I remember I was conscious and felt a little shy of wearing her but with in days I would hope everyone could see it and ask me about it !
It was Mukul Prabhu who told me to worship Tulasi and I started doing it diligently. My bonding with her was immediate, I would clean each leaf carefully and took care of her. Similarly, when I would go to Vrindavan , I would circumambulate Tulasi outside Balram Hall almost every time.
Another event which happened at the start of my journey was that I attended the Tulasi- Shailgram marriage at Vrinda Devi's temple (http://www.vrindavan-dham.com/vrinda/vrinda-devi.php). It was unplanned but when I heard that there was a bus going from Krishna Balram temple for the same, I hopped on. It was a a wonderful experience attending the complete marriage, I actually felt like one of the `barati',  many a times I think that my spiritual journey got a kick start after I attended this ceremony. Please see below the beautiful temple of Vrinda Devi.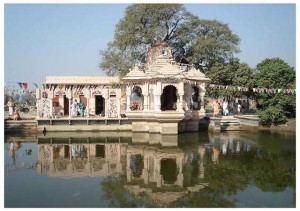 In the past there were many times, specially in winter, when Tulasi will shed almost all her leaves in the winter and I would worry how to ensure that she remains healthy. Whenever I would go out of station, I would ask my wife if she is offering water to Tulasi. She used to be quite amused at my behaviour.  I didn't know much on how to take proper care of her.
I clicked the below picture today morning at my home. In last 1 year Tulasi Maharani continues to grow in our home and shower her mercy on us.
Few months back I saw a Tulasi outside a big showroom, growing so much and without any care, all her branches were hanging down almost touching the ground. I felt so pained that I picked her up and brought her home in the car. I later called up the showroom and told them what I did, why I did and told them that I could return if they took care of her. Their manager said sorry and he allowed me to keep her with me. She is the second from the left in the above picture.
It was Sumeet Prabhu who told told me one day that how one senior devotee told him not to sing/recite Tulasi arti  in a big hurry in the morning. I shamefully realised that I don't even offer Tulasi any arti at home. So I started offering Tulasi  Maharani obeisances every morning and singing her arti. The no. of Tulasi started growing more and more. She would grow up in the next plant, she came as a gift from a Bhagavad Gita seminar and so on. As you can see in the picture, and there are more, she is spreading her mercy on our home, blessing us by her presence.
This year I asked some devotees, read some websites, and took extra care not to give her too much water in the winter and she seems happy. ( http://www.deityworship.com/?page_id=13 )
I pray to Tulasi Maharai to continue to shower her mercy on all the devotees and bless us so that we can understand and appreciate the deep meaning of her Arti. I also seek her forgiveness for all my past offenses towards her. I beg her daily to give me Krishna Prema.
All glories to Tulasi Maharani.
Sri Tulasi Kirtana
namo namaha tulasi krishna-preyasi
radha-krishna-seva pabo ei abhilashi
je tomara sharana loy, tara vanchha purna hoy
kripa kori' koro tare brindavana-basi
mor ei abhilash, bilas kunje dio vas
nayane heribo sada jugala-rupa-rashi
ei nivedana dharo, sakhir anugata koro
seva-adhikara diye koro nija dasi
dina krishna-dase koy, ei jena mora hoy
sri-radha-govinda-preme sada jena bhasi