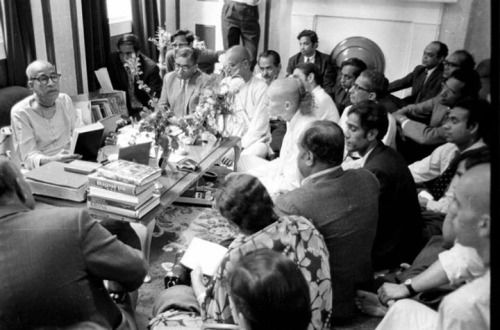 The Mission
That is wanted, that all of you will take upon yourselves the responsibility of preaching widely everywhere the message of Lord Caitanya Mahaprabhu. By that responsible commitment to your spiritual master, that is your qualification for getting Krsna's blessing upon you. And only in this way will you be able to make your spiritual progress rapidly.
Therefore if we want to please Kṛṣṇa, we have to take this risk. Kṛṣṇa, guru. My spiritual master took this risk, preaching work, and he inspired us also to do that preaching work. And we are also imploring you to take this preaching work.
The Mood
I was maintaining the establishment simply depending on Krishna and then Krishna sent me everything—men and money. Similarly, if a sincere soul goes out and opens a center in any part of the world Krishna will help him in all respects. Without being empowered by Krishna, nobody can preach Krishna Consciousness. It is not academic qualification or financial strength which helps in these matters, but it is sincerity of purpose which helps us always…. In this way you will follow my example as I did in the beginning at 26 2nd Ave. That is preaching, cooking, writing, talking, chanting everything one man's show. I never thought about the audience. I was prepared to chant if there were no man to hear me. The principle of chanting is to glorify the Lord and not to attract a crowd. If Krishna hears nicely then he will ask some sincere devotee to gather in such place.
Our great Preceptor
The best example is Caitanya Mahāprabhu. He's Kṛṣṇa Himself, but He's playing the part of mahā-bhāgavata. He never discussed Kṛṣṇa's rasa-līlā publicly. Never discussed. You won't find any time that Caitanya Mahāprabhu is discussing rasa-līlā publicly. No. Never. He simply dealt with ordinary persons by chanting Hare Kṛṣṇa mantra, and whenever there were scholars, there were philosophers—just like Sārvabhauma Bhaṭṭācārya, Prakāśānanda Sarasvatī—He talks with some philosophy, Vedānta-sūtra. And when there was high-class devotee like Rāmānanda Rāya, He discussed about Kṛṣṇa's līlā. You'll find this. Not that with everyone He discussed Kṛṣṇa's līlā. No.
Neither He discussed philosophy with everyone. But for the general public, so long He remained at Jagannātha Purī, every evening He was simply organizing great saṅkīrtana party. And for four hours, at least, He was going on saṅkīrtana in four parties. We have studied this thing from Caitanya-caritāmṛta, or Teachings of Lord Caitanya, that from the dealings of Caitanya Mahāprabhu, because although He's Kṛṣṇa Himself, He's playing the part of ācārya, playing the part of devotee.
Yes, we shall base our preaching work on Lord Caitanya's formula: sankirtana. After all, He is God, and if He recommends, what is the question of failure? that is not possible. If we simply stick to this programme as I have done it since the beginning, namely, kirtana, preaching, kirtana, distribution of prasadam—if you do like this only that will be sufficient. Of course, you may make the kirtana as nice as possible, with dancing, many kholes, karatalas, conches, and if you preach sincerely, anyone will listen and become convinced. The potency of Krishna Consciousness movement does not come from some outward showing, no, it is the transcendental sound vibration of Hare Krishna Mantra and the words of Bhagavad-Gita, Srimad-Bhagavatam, like that. So now go on and develop the things in this spirit, that will be nice.
(Letter – 25th November, 1972)
Remain spiritually fit
Such regular activities like attendance of Arati, chanting of rounds, study of literatures in the class will keep you fit for effective preaching work in the outer field. Our standard of purity must be kept, otherwise there will be loss of spiritual strength, and subsequent fall down. Everyone of you should be thoroughly convinced of the power of the Hare Krsna mantra to protect you in all circumstances and chant accordingly at all times without offense.
Beware
Simply introduce our Krsna Consciousness program anywhere and everywhere, without any compromise or deviation from the highest standard of devotional practice, as chalked out for us by our great predecessors. If you yourself remain always pure, then your preaching will have effect. As soon as there is little impurity, the whole thing will deteriorate and go to hell.
The Goal
Anyone who preaches the gospel of Bhagavad-gītā to the people of the world is the dearest person in the world to Kṛṣṇa. So therefore our duty is to preach the principles of this Bhagavad-gītā, to make people Kṛṣṇa conscious. People are suffering for want of Kṛṣṇa consciousness. Therefore each and every one of us should be engaged in the preaching work of Kṛṣṇa consciousness for the benefit of the whole world.
(Lecture- New York, August 3, 1966)
If you feel at all indebted to me then you should preach vigorously like me. That is the proper way to repay me. Of course, no one can repay the debt to the spiritual master, but the spiritual master is very much pleased by such an attitude by the disciple.
I pray and hope that some part from the above touched our heart and will inspire and enthuse us in some manner.
Your Servant,
Giriraj dasa