Hare Krishna.
7th Feb, 2016. Vrindavana.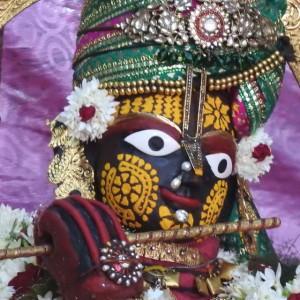 S
ambandh

,

abhidheya

and

prayojana

.

"The Vedic literatures give information about the living entity's eternal relationship with Kṛṣṇa, which is called sambandha. The living entity's understanding of this relationship and his acting accordingly is called abhidheya. Returning home, back to Godhead, is the ultimate goal of life and is called prayojana.

"Devotional service, or sense activity for the satisfaction of the Lord, is called abhidheya because it can develop one's original love of Godhead, which is the goal of life. This goal is the living entity's topmost interest and greatest wealth. Thus one attains the platform of transcendental loving service unto the Lord.

"When one attains the transcendental bliss of an intimate relationship with Kṛṣṇa, he renders service to Him and tastes the mellows of Kṛṣṇa consciousness.

                                                                                                                                                          — CC Madhya 20.124-126

The whole Vedas are divided into three states. Sambandha: what is our connection with God? That is called sambandha. And then abhidheya. According to that relationship we have to act. That is called abhidheya. And why do we act? Because we have got the goal of life, to achieve the goal of life. So what is the goal of life? The goal of life is that to go back to home, back to Godhead. That is goal of life.

                                                                                                — Srila Prabhupada, Lecture, Madras, 2nd  Jan, 1976

..the Vedānta-sūtra consists of four chapters. The first two chapters discuss the relationship of the living entity with the Supreme Personality of Godhead. This is known as sambandha-jñāna, or knowledge of the relationship. The third chapter describes how one can act in his relationship with the Supreme Personality of Godhead. This is called abhidheya-jñāna. The relationship of the living entity with the Supreme Lord is described by Śrī Caitanya Mahāprabhu: jīvera 'svarūpa' haya kṛṣṇera 'nitya-dāsa'. "The living entity is an eternal servant of Kṛṣṇa, the Supreme God." (Cc. Madhya 20.108) Therefore, to act in that relationship one must perform sādhana-bhakti, or the prescribed duties of service to the Supreme Personality of Godhead. This is called abhidheya-jñāna. The fourth chapter describes the result of such devotional service (prayojana-jñāna). This ultimate goal of life is to go back home, back to Godhead.

                                                                                                                                                              — CC Adi 7 106p

I was hearing a lecture by HH Bhakti Vidyapurna Maharaj on the same topic and Maharaj explained  these three terms in a simpler way as well the relation between them.

Sambandha : attraction, what draws the mind.
Prayojana : attachment.

Both the above are moods, they create feelings but there is no activity.

Abhidheya : This is the actual expression of the above two.

So we become attracted towards Krishna and then due to that attraction we become attached to Krishna and then we want to do something. The real meaning comes with service.

We say mind has three functions: thinking, feeling and willing.

If something is attractive we think about it,  if we are not attracted then we won't think about it. Feeling is when we get attached to it. Then..willing.. we actually do something about it. So we see Krishna, we become attracted to Krishna then we become attached to Krishna and then we finally want to serve Krishna.

So it is in abhidheya that we understand the knowledge, contemplate on it and then practice that knowledge. It is application. How we are related to Krishna and what we want to achieve, what is it's purpose.

Abhidheya is the most important and critical part among the three and I am sharing some nectar, which I heard in last few months, on how we, as aspiring devotees, can traverse this wonderful and exciting journey,  making it more enriching and less painful (for us and those around us!)
Who am I and what is my eternal duty?
My real identity is that I'm a servant of Krishna and my duty is to serve Krishna.
My current role as a father, mother, husband, wife, daughter, doctor, businessman, artist, etc. is the 'service' Krishna has given me. I have to perform all these 'services' but I'm none of these.
jīvera 'svarūpa' haya — kṛṣṇera 'nitya-dāsa'
"It is the living entity's constitutional position to be an eternal servant of Kṛṣṇa."
                                                                                                                                         — CC Madhya 20 108
As aspiring devotees we  must drill it in our head that
Krishna is the controller and Krishna is the supreme enjoyer.
Hence, I am not the controller, I am not the enjoyer. (we should practice to remember this when we face challenging situations at home, and everywhere else in our life)
And I'm not even the doer. I can only desire. And Krishna may or may not fulfill all my desires, knowing well what is good for us at this stage.
More importantly, as an aspiring devotee, I should be very conscious of what are my desires ( at least my conscious desires, I have no control at our stage on my subconscious desires, but those too are are changing while I sincerely practice Krishna consciousness). I should daily read scriptures like Bhagavad Gita, Bhagavatam, Caitanya-caritāmṛta or vaishnava prayers and then note down on a piece of paper or a writing pad what should be my desires.
I should then practice to pray for these right kind of desires. It is a very nice sublime and enriching practice to speak and express such desires in front of our deities at home. It is an amazing experience. It also brings a lot of humility as we regularly (if not daily!) realise our helplessness as we fail despite our best intentions. It also acts as a catalyst for urgency and significance of  mercy from above. We realise the minuteness of everything we thought will hold us good in this world, my intelligence, my willpower, even my good intentions…
I can also practice to be more sensitive and contemplate regularly what is happening around me (my circumstances)  and then sincerely beg Srila Prabhupada and Krishna for guidance as to what I have to learn from changing, and challenging, circumstances in my life. This may help me learn without Krishna having to put a bomb under me to wake me up ! Become a conscious cooperator. And I should  be ready to 'walk the talk' and face any kind of 'music' which may crop up to get me out of my present groove.
Chanting attentively, which means trying to chant Nama conscious and Nama pleasing rounds, will ensure that I am sincerely seeking shelter of the spiritual energy of the Lord.
And in the meantime, whatever be my present ashram or situation, I have to sincerely try hard to practice the culture of Love, and not culture of lust. Every single challenge is training ground for us to progress in Krishna consciousness. I have to aspire and live the 'madhyam' culture in my daily life.
All this would definitely be a big struggle but this struggle for Krishna will help me develop my 'weakened' spiritual muscles. And this struggle is a very sweet struggle because I'm struggling for Krishna. And there is reciprocation in this struggle, it is NOT one sided, with me acting merely like a puppet. It is a dynamic relationship. It takes two to tango, ashraya and vishaya, subject and the object.
The whole journey is like a child who is learning to walk. He falls down and trips and sometimes gets hurt too. But the child remains enthusiastic, determined and endeavors hard to learn how to walk. And His parents are there to help him. The child too has the confidence that they will protect him. Yet sometimes to a child it may look cruel that even as he is trying hard to walk, the child tries to hold on to a support, struggling to even stand properly, the parent pushes that support a little further away from him. In reality the parent do that because they know it will help the child to learn to walk and gain some confidence in his own ability, even at a slight risk of child falling down on the ground and getting hurt a bit, but they are always next to the child to protect him. As a grown up, the child will always look back and be nothing but grateful to his parents for all their patience to help him walk, realising that they had no selfish interest other than his own benefit.
Same is the case of the beautiful relationship that develops between an aspiring devotee and Krishna. And it is just the beginning of the sweetest relationship a soul can ever taste.
A Note of caution. All these words may help me'understand' it all this a bit but I will 'realise' it only when I practice it in my daily life, this knowledge is for application. And the best time to start practicing is… TODAY!
( As we struggle to implement all the above steps in our life it might be good idea to take shelter of Srila Rupa Goswami (by praying to him, reading his books & going to his samadhi) and praying to Sri Govind Devji (picture above), our acharaya and Deity of abhideya respectively)
Here is a short video of one of the most sweet mangal artis I have ever attended, at Radha Govind Devji temple, Jaipur.
Radhe Govind… Bhajo Radhe Govind, Paar Lagaa Dey Govind,
Jay Sri Radhe Krishna, pyaare Krishna…
राधे गोविन्द  भजो राधे गोविन्द  पार लगादे गोविन्द !!
जय श्री राधे कृष्णा प्यारे कृष्णा…
All glories to Srila Prabhupada.
All glories to Sri Guru and Gauranga.