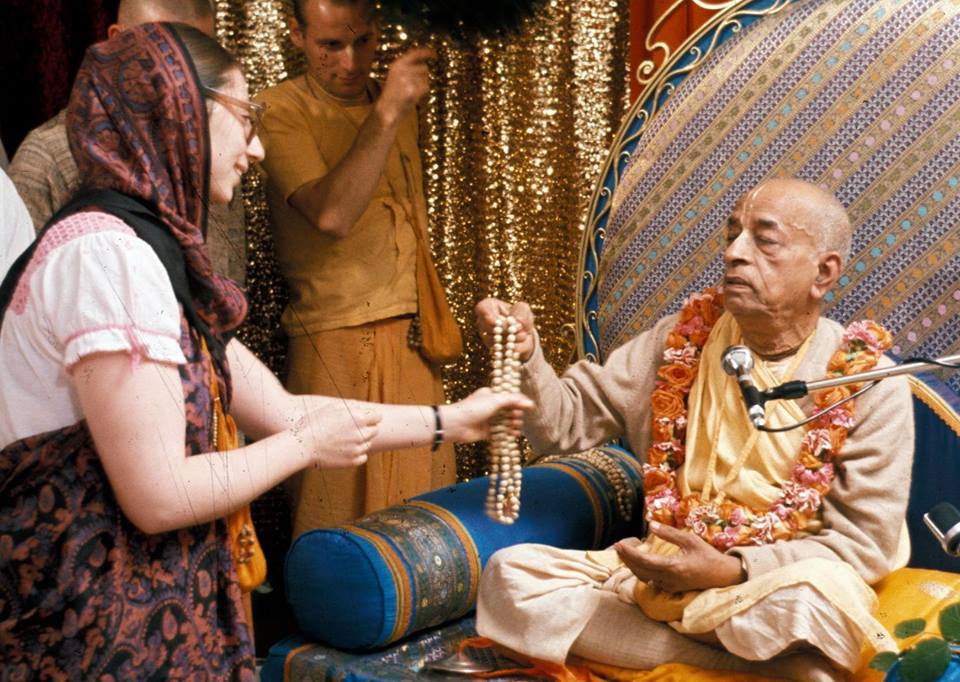 Hare Krishna dear devotees,
Since last few months I have come across devotees who have lost their chanting beads. If this in itself was not bad enough, then what was even more painful for them was that in all the cases, save one, their spiritual master declined to chant again on new chanting beads.
For the devotees the most precious and dear most treasure are their chanting beads- on which their spiritual master has chanted and which they had been given at the time of their initiation ceremony. If the chanting beads are misplaced or forgotten (either of which is very rare) it's like a calamity! For devotees it is an unbearable wait till their chanting beads are found.
Past week I came across a wonderful pastime of Srila Prabhupada which was an eye opener for me. Along with the same I am also sharing some sweet, and instructive, pastimes devotees had with Srila Prabhupada over their misplaced beads and bead bags.
Tattava
Over the past few days Prabhupada has given many small but significant instructions on a variety of issues. For example, a devotee who lost his original beads gave me a new set for Prabhupada to sanctify by chanting on them. Prabhupada agreed, but mentioned that this was not really necessary because it is the chanting of the devotee that is sanctified at initiation, not the beads.

(Transcendental Diary by Hari Sauri Dasa, vol. 1, chapter 2 )

Best to cultivate a heart connection
After leaving San Moritz we spent one day in an exclusive hotel overlooking the Rhine River in Zurich. Srila Prabhupada had a room and his entourage stayed together in the room next door. They were not adjoining rooms, however. When it was time for his massage, I had to go into his room to change my clothes to avoid walking in the hallway in my gumcha. One day when I finished giving him a massage, I inadvertently left my bead bag in his room.

They were not the japa beads Srila Prabhupada had chanted on at my initiation two years earlier. Unfortunately, I lost them in New Vrindaban. I considered asking Srila Prabhupada to chant on another set of beads for me but, I didn't want to admit how careless I had been. My bead bag was prasadam given to me by His Divine Grace. When I returned to Srila Prabhupada's room, I noticed, to my delight, his hand in my bead bag. For the next half hour, I joyfully watched as he chanted on my beads. Again
Srila Prabhupada fulfilled my desire without me asking. I waited until he put my bead bag down and took my newly sanctified beads to our quarters. Elated, I bragged to the others how a miracle had just taken place.
(What Is The Difficulty by Sruta Kirti dasa, chapter 63)
But don't be neglectful
"All these initiation beads should be kept very carefully and protected. It is not a question of changing beads, but this carelessness, of losing beads, is not very good. You are very intelligent boy, so you should be careful and instruct others also. So keep your beads in a bag and keep the bag around your neck. Then you won't lose."
(letter to Hrdayananda, 6th July, 1971)
Show respect by keeping it clean
Bhakti Vikasa Swami: Srila Prabhupada was sitting on his vyasasana that was not exactly a vyasasana but it was a special raised seat. To Srila Prabhupada's right and a little in front of him was a senior devotee who had his japa beads around his neck and he was chanting on them. When Srila Prabhupada noticed that he asked him, "Where is your bead bag?" This devotee said, "It's being washed, Srila Prabhupada", and then Prabhupada turned to Harikesh Maharaj and asked, "Some bead bags have been given?" Harikesh said, "Yes, Prabhupada." Prabhupada said, "Bring one and give it to him." Harikesh brought the bead bag and then Prabhupada told the devotee who had been chanting, "Always keep your beads in a bead bag." He said, "You should have two bead bags. When one is being washed use the other one."

(Srila Prabhupada – Remembrances, chapter 51)
Balai: In Boston in 1968 I was in Srila Prabhupada's quarters with Himavati and Hamsadutta and others. Himavati had just made Srila Prabhupada a nice bead bag and gave it to him. Her husband Hamsadutta had his beads around his neck because he had just washed his bead bag and it was drying. Srila Prabhupada offered Hamsadutta this new bead bag and Hamsadutta said, "No, Srila Prabhupada, that's yours". Srila Prabhupada said, "What's mine is yours, what's yours is mine. Everything belongs to Krishna."
(Srila Prabhupada – Remembrances, chapter 48)
This is our process
So our…, this is the process. We have got this bead bag, and within this bag there is bead, and we chant each… We capture each bead and chant,
Hare Krishna, Hare Krishna, Krishna Krishna , Hare Hare
Hare Rama, Hare Rama, Rama Rama, Hare Hare.
One bead equals sixteen times. So the whole bead chain there is hundred and eight, so one round means about seventeen hundred. In this way, our disciples are advised to chant at least sixteen rounds. This is our daily duty. It takes about two hours, and after that we are engaged in so many other businesses. Somebody is typing or printing books, somebody is going to sell books, somebody is collecting subscription, somebody is cooking for the temple Deity, Radha-Krishna. So in this way our inmates, or our members, are always engaged. Kirtaniya sada hari.
(Lecture, October 14, 1975, Johannesburg)
All glories to Sri Guru and Gauranga
All glories to Srila Prabhupada
Your servant,
Giriraj dasa