Hare Krishna dear devotees,
How does one receive bhakti? Does it happen by chance or do we need piety to receive it, does practicing austerity help us in receiving bhakti, does one need knowledge to get bhakti?
Bhakti is independent
Srila Visvanatha Cakravarti Thakura explains in detail in his book Madhurya Kadambini that bhakti is independent, like Krishna, bhakti is not dependent on any material cause whatsoever for it's appearance. Then with very sound reasoning and evidence from scriptures Srila Visvanatha Cakravarti Thakura proves that bhakti does not come by performing pious activities, nishkama-karma, jnana, purity, etc. He explains that such a claim will make bhakti dependent on some material cause, even though pious, to manifest. One may wonder how then does one get bhakti. By Krishna's causeless mercy?
Krishna does not give bhakti directly !
One may say that we get bhakti by the causeless mercy of Krishna. But Srila Visvanatha Cakravarti Thakura explains that in such a case Krishna would be blamed for showing favoritism in bestowing bhakti, since we can see that His causeless mercy does not fall upon everyone equally. Srila Visvanatha Cakravarti Thakura explains that Krishna is indeed partial to His devotees but Krishna shows that partiality by giving protection to His devotees. So how else does one receive bhakti?
bhaktyā sañjātayā bhaktyā -bhakti comes from bhakti
Srila Visvanatha Cakravarti Thakura quotes the below verse from Srimad Bhagavatam to prove that bhakti comes from bhakti.
marantaḥ smārayantaś ca mitho 'ghaugha-haraṁ harim
bhaktyā sañjātayā bhaktyā bibhraty utpulakāṁ tanum
The devotees of the Lord constantly discuss the glories of the Personality of Godhead among themselves. Thus they constantly remember the Lord and remind one another of His qualities and pastimes. In this way, by their devotion to the principles of bhakti-yoga, the devotees please the Personality of Godhead, who takes away from them everything inauspicious. Being purified of all impediments, the devotees awaken to pure love of Godhead, and thus, even within this world, their spiritualized bodies exhibit symptoms of transcendental ecstasy, such as standing of the bodily hairs on end.
(SB 11.3.31)
Mercy of Krishna flows via His devotees
Srila Visvanatha Cakravarti Thakura finally concludes that the causeless mercy of devotees is the actual cause of devotion or bhakti. He adds that someone may say that devotees, like Krishna, should be equal to all. Srila Visvanatha Cakravarti Thakura clarifies that it is specifically the preacher, madhyama adhikari, the middle level devotee, who practices discretion in distributing his mercy. He quotes from Srimad Bhagavatam to give us a glimpse of the nature of such a middle level devotee.
An intermediate or second-class devotee, called madhyama-adhikārī, offers his love to the Supreme Personality of Godhead, is a sincere friend to all the devotees of the Lord, shows mercy to ignorant people who are innocent and disregards those who are envious of the Supreme Personality of Godhead.
(SB 11.2.46)
Srila Visvanatha Cakravarti Thakura explains that Krishna becomes subservient to such a devotee, and He bestows His mercy in accordance with His devotee's mercy! And the devotee is distributing what is already there in his heart – Bhakti! bhaktyā sañjātayā bhaktyā – Hence bhakti is coming from bhakti only.
Why only a madhyama adhikari?
An uttama adhikari, or topmost level of devotee, sees Krishna in everyone's heart. He sees that everyone is serving Krishna, except himself, and hence they do no need mercy. A kanishta adhikari, on the other hand, sees himself as a pure devotee, but even though he worships the deity of Krishna but he fails to behave properly with other devotees and the general public.
In this way Srila Visvanatha Cakravarti Thakura very scrutinizingly proves that it is the madhyama adhikari who gives mercy to the innocents. Krishna also openly declares in Bhagavad Gita that a preacher is very dear to Him.
For one who explains this supreme secret to the devotees, pure devotional service is guaranteed, and at the end he will come back to Me. There is no servant in this world more dear to Me than he, nor will there ever be one more dear.
Srila Visvanatha Cakravarti Thakura explains that Krishna personally shows special mercy to such a devotee by giving him His own independent power to bestow mercy to others. So the preacher, who is always dependent upon Krishna, prays to Krishna to bestow His mercy and Krishna readily agrees!
Magic happens when an Uttama adhikari comes downs to preach!
One may ask why would an uttama adhikari, the topmost of devotees, like to 'come down' to this material world?
Devotional service is so enchanting that even the first-class devotees (uttama-adhikaris) also come down to the second platform to preach and render service to the Lord for the benefit of the whole world.
One may also wonder why does a topmost devotee needs to 'step down' to the level of a middle level devotee to preach?
Unless one comes to the madhyama-adhikara, he cannot preach. Because in the uttama-adhikari there is no need of preaching, because uttama-adhikari, he sees everything good. He does not think anyone is lacking Krishna consciousness. He says everyone is Krishna conscious, "Simply I am not Krishna conscious."
(Lecture, 4th Nov. 1972, Vrindavana)
Such an unalloyed devotee, who comes down from the topmost level to the middle level to preach, is carrying Krishna's lotus feet in his heart. A heart which is sold out to fulfill Krishna's desires. When such a devotee prays to Krishna for us, ordinary people, then magic happens! What was very difficult to achieve even by great yogis in the past becomes very easy to achieve even by a common man.
Srila Visvanatha Cakravarti Thakura explains 'Krishna's mercy is manifested in the Lord's bestowal of His own kripa- shakti to His devotee, who then gives it to the fallen souls'.
He is someone very special
Nitya-siddha devotees come from Vaikuṇṭha to this material world to teach, by their personal example, how to become a devotee. The living entities in this material world can take lessons from such nitya-siddha devotees and thus become inclined to return home, back to Godhead. A nitya-siddha devotee comes from Vaikuṇṭha upon the order of the Supreme Personality of Godhead and shows by his example how to become a pure devotee (anyābhilāṣitā-śūnyam). In spite of coming to this material world, the nitya-siddha devotee is never attracted by the allurements of material enjoyment….. A pure devotee, therefore, is a practical example for all living entities, including Lord Brahmā.
So which Nitya-siddha 'came down' and prayed for all of us?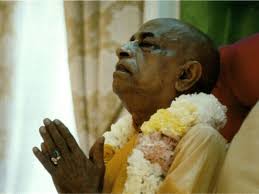 Let's hear some words pouring out from the heart of a premi bhakta
boro-kṛpā kaile kṛṣṇa adhamer prati
ki lāgiyānile hethā koro ebe gati
My dear Lord Krishna, You are so kind upon this useless soul, but I do not know why You have brought me here. Now You can do whatever You like with me.
āche kichu kārja taba ei anumāne
nahe keno āniben ei ugra-sthāne
But I guess You have some business here, otherwise why would You bring me to this terrible place?
rajas tamo guṇe erā sabāi ācchanna
bāsudeb-kathā ruci nahe se prasanna
Most of the population here is covered by the material modes of ignorance and passion. Absorbed in material life, they think themselves very happy and satisfied, and therefore they have no taste for the transcendental message of Vāsudeva. I do not know how they will be able to understand it.
tabe jadi taba kṛpā hoy ahaitukī
sakal-i sambhava hoy tumi se kautukī
But I know Your causeless mercy can make everything possible because You are the most expert mystic.
ki bhāve bujhāle tārā bujhe sei rasa
eta kṛpā koro prabhu kori nija-baśa
How will they understand the mellows of devotional service? O Lord, I am simply praying for Your mercy so that I will be able to convince them about Your message.
tomāra icchāya saba hoy māyā-baśa
tomāra icchāya nāśa māyār paraśa
All living entities have become under the control of the illusory energy by Your will, and therefore, if You like, by Your will they can also be released from the clutches of illusion.
taba icchā hoy jadi tādera uddhār
bujhibe niścai tabe kathā se tomār
I wish that You may deliver them. Therefore if You so desire their deliverance, then only will they be able to understand Your message.
(Markine-Bhagavata Dharma by Srila Prabhupada)
Bhagavad gita was there, temples were there, devotees were also there but it took a premi bhakta like Srila Prabhupada to come down from the spiritual world to transform and transplant bhakti in the hearts of millions of people all across the planet. Krishna sent him for mass liberation of conditioned souls.
Desires of such a Nitya-siddha
In Vṛndāvana there is a place where there was no temple, but a devotee desired, "Let there be a temple and sevā, devotional service." Therefore, what was once an empty corner has now become a place of pilgrimage. Such are the desires of a devotee.
bhaktyā sañjātayā bhaktyā, bhakti comes from bhakti. But this one comes from the heart of a pure unalloyed devotee, an eternal associate of Krishna and Caitanya Mahaprabhu. Shastra explain that there are different kinds of devotees, some devotees are very merciful but they do not have much potency and some devotees have potency but they are not so merciful upon others but Srila Prabhupada is a very special devotee, he is both – extremely merciful and extremely potent.
How to remain a continuous recipient of bhakti from Srila Prabhupada?
There could be many answers. But one very direct and sure way is given in the last para of the above poem by Srila Prabhupada himself.
bhāgavater kathā se taba avatār
dhīra haiyā śune jadi kāne bār bār
The words of Śrīmad-Bhāgavatam are Your incarnation, and if a sober person repeatedly receives it with submissive aural reception, then he will be able to understand Your message.
So if we daily, and submissively, read Srimad Bhagavatam, then gradually our heart will be purified and soon it can become the resting place of the lotus feet of Vrajendra Nandana Krishna, Krishna of Vrindavan. Srila Prabhupada wishes to bestow bhakti for this very special Krishna upon us, the highest, the most secret & the most sweetest form of Krishna.
Wherever there is Vrajendra Nandana Krishna, there is Radharani, there is Govardhan, there are gopas and gopis, there is Yamuna, Vrindadevi is there, whole Vrindavan descends with Him. Can we even imagine such a state for our heart! bhaktyā sañjātayā bhaktyā.
The appearance of the form of Krishna anywhere, and specifically within the heart, is called dhäma. Dhäma refers not only to Krishna's form, but to His name, His form, His quality and His paraphernalia. Everything becomes manifest simultaneously.
(SB 10.2.18p)
That is why we address Srila Prabhupada as His Divine Grace, or Krishna Kripa murti in Hindi, because Krishna's mercy, in the form of His Kripa-shakti, is flowing in his heart. We can access it via his vani, his books, his instructions, his disciples and his ISKCON. It is up to us take advantage of it. bhaktyā sañjātayā bhaktyā. Bhakti resides forever in the heart of such an unalloyed devotee, we have to simply dovetail our consciousness with Srila Prabhupada's teachings to make our good fortune.
At the ardha kumbha mela, the one that I was talking about, one devotee, after hearing Srila Prabhupada's class, he asked a question. "You said by taking devotional service, you'll cross through so many preliminary stages of yajnas, tapasyas and pious activities, but when I look back at my life, I don't see any of that. I was simply engaged in materialistic activities, so how did I receive devotional service?" Prabhupada exclaimed forcefully, "I have made your good fortune for you!"
(HH Jayapataka Swami, 6th Sept. 2015)
All glories to Sri Guru and Gauranga.
All glories to Srila Prabhupada
Your servant,
Giriraj dasa