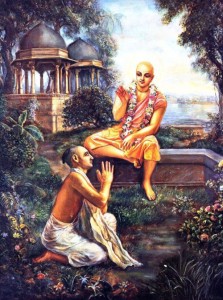 17th Jan, 2015, Gurgaon.
Hare Krishna and pranams dear devotees,
More than a year back, HH Gopal Krishna Goswami Maharaj came to ISKCON Gurgaon centre and spoke a verse from Śrī Caitanya-caritāmṛta which somehow slowly, yet firmly, got settled inside my heart. It describes top five limbs of devotional service. Maharaj instructed everyone to memorise this wonderful verse. The verse was
sādhu-saṅga, nāma-kīrtana, bhāgavata-śravaṇa
mathurā-vāsa, śrī-mūrtira śraddhāya sevana
"One should associate with devotees, chant the holy name of the Lord, hear Śrīmad-Bhāgavatam, reside at Mathurā and worship the Deity with faith and veneration.
In this powerful verse from madhya lila Mahāprabhu describes the process of devotional service to Sri Sanatana Goswami. In the beginning He describes the truth about the living entity and the super excellence of devotional service. He then describes the uselessness of mental speculation and mystic yoga. In all circumstances the living entity is recommended to accept the path of devotional service as personally explained by Śrī Caitanya Mahāprabhu. The speculative method of the so-called jñānīs is considered a waste of time, and that is proved in this chapter. An intelligent person should abandon the processes of karma-kāṇḍa, jñāna-kāṇḍa and mystic yoga. There are sixty-four items listed in regulative devotional service, and out of these sixty-four the last five are considered very important.
"These five limbs of devotional service are the best of all. Even a slight performance of these five awakens love for Kṛṣṇa.
( CC Madhya 22.129)
Prabhupada quotes the below verse from the Bhakti-rasāmṛta-sindhu, in his purport –
aṅgānāṁ pañcakasyāsya pūrva-vilikhitasya ca
nikhila-śraiṣṭhya-bodhāya punar apy atra śaṁsanam
"The glorification of these five items [association with devotees, chanting the holy name and so on] is to make known the complete superiority of these five practices of devotional service."
Sri Caitanya Mahaprabhu continues to glorify these five limbs of devotional service to Srila Sanatana Goswami –
"'With love and full faith one should worship the lotus feet of the Deity. One should taste the meaning of Śrīmad-Bhāgavatam in the association of pure devotees, and one should associate with the devotees who are more advanced than oneself and who are endowed with a similar type of affection for the Lord. One should congregationally chant the holy name of the Lord and reside in Vṛndāvana.'
'The power of these five principles is very wonderful and difficult to understand. Even without faith in them, a person who is offenseless can awaken his dormant love of Kṛṣṇa simply by being a little connected with them.'
"When one is firmly fixed in devotional service, whether he executes one or many processes of devotional service, the waves of love of Godhead will awaken.
"There are many devotees who execute only one of the nine processes of devotional service. Nonetheless, they get ultimate success. Devotees like Mahārāja Ambarīṣa execute all nine items, and they also get ultimate success.

What is most amazing is if we analyse how Srila Prabhupada made the structure of ISKCON based on these five limbs of devotional service.
In one of his lectures HH Bhakti Charu Swami said 'Prabhupada actually designed ISKCON in such a way that anyone who is engaged in Krishna consciousness in ISKCON is automatically performing these five activities. The first aspect is sadhu sangha, anyone who is in ISKCON is getting the association of the sadhus. Similarly anyone who is in ISKCON must attend the Bhagavatam class and at least read for some time every day, so this is how one is reading scriptures. Anyone who is in ISKCON worships the deity, although not all of us worship the deity directly but by attending mangala-arati and the morning program we automatically do that. Then comes residing in the holy dhama, all temples of Krishna are non-different from Goloka Vrindavana. Therefore, those who are living in the temple, or those whose consciousness is in the temple, are actually residing in Mathura. In this way Prabhupada has given us the simple process for Krishna consciousness.'
Now I realise why so many senior devotees always stress that we have to simply remain in ISKCON, serve the local temple, do our sadhna bhakti and we will surely make progress in our spiritual life.
vande śrī-kṛṣṇa-caitanya-devaṁ taṁ karuṇārṇavam
kalāv apy ati-gūḍheyaṁ bhaktir yena prakāśitā
I offer my respectful obeisances unto Lord Śrī Caitanya Mahāprabhu. He is an ocean of transcendental mercy, and although the subject matter of bhakti-yoga is very confidential, He has nonetheless manifested it so nicely, even in this Age of Kali, the age of quarrel.
All glories to the five limbs of devotional service.
All glories to Sri Guru and Gauranga.
All glories to Srila Prabhupada.
Your servant,
Giriraj dasa