Hare Krishna,
6th November, 2016. Sri Vrindavan dhama.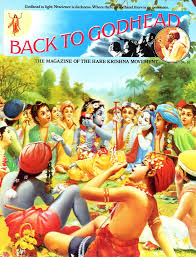 Last Sunday as I was standing outside Balaram Hall in  Krishna Balaram temple at Vrindavan, a senior mataji, whom I know, stopped me and we had the following conversation.
Mataji : You live in Delhi?
Me : Yes mataji.
Mataji: Do you know what has happened in Delhi ?
Me: No mataji.
Mataji: They have closed all the schools in Delhi
Me: (a little surprised) Why mataji!
Mataji: The pollution level have reached alarming level in Delhi, they are spraying water on the streets. Didn't you read the news.
Me: I don't read news mataji, it is indeed a surprise. ( I could still not understand the reason for her anxiety)

Mataji: I have to go to Mumbai and catch a flight from Delhi. I am worried how will I go?
Me: (now I am surprised) Mataji. you will be going in a cab and in any case the pollution levels have been high since many years. Media needs something sensational and they would have put it on the main news. The pollution hasn't gone up to these levels in just a day. It was already very high.

Mataji: Please read the news on your mobile. It is a very serious situation and I am very really worried.
Me: (a bit amused now, but I spoke with a passive face and seriousness) There is no need to worry mataji. They said even 10 or 20 years back that living in Mumbai (where mataji lives) is equivalent to smoking 20 cigarettes a day. So it's nothing new for our body, Please rest assure your trip via Delhi will be fine and no need to be anxious.

Mataji, not very enthused with my reply, turned and left, with a worried expression her face.

As I started walking back towards my room I thought how as a devotee we get bothered with so many distractions. We forget whether our main goal is to go back to Mumbai or going back to Godhead.

Going back to Godhead
While walking back to the room I wished the conversation would have been:
Mataji : Are you aware that we are living in this material world, away from Krishna.

Me: (ashamed) only sometimes mataji.
Mataji : Do you know what all is happening here and what all is supposed to happen as kali-yuga progresses
Me: only a little mataji.
Mataji: Please hear what Srimad Bhagavatam has declared:

Śukadeva Gosvāmī said: Then, O King, religion, truthfulness, cleanliness, tolerance, mercy, duration of life, physical strength and memory will all diminish day by day because of the powerful influence of the Age of Kali.
In Kali-yuga, wealth alone will be considered the sign of a man's good birth, proper behavior and fine qualities. And law and justice will be applied only on the basis of one's power.
Men and women will live together merely because of superficial attraction, and success in business will depend on deceit. Womanliness and manliness will be judged according to one's expertise in sex, and a man will be known as a brāhmaṇa just by his wearing a thread.
A person's spiritual position will be ascertained merely according to external symbols, and on that same basis people will change from one spiritual order to the next. A person's propriety will be seriously questioned if he does not earn a good living. And one who is very clever at juggling words will be considered a learned scholar.
A person will be judged unholy if he does not have money, and hypocrisy will be accepted as virtue. Marriage will be arranged simply by verbal agreement, and a person will think he is fit to appear in public if he has merely taken a bath.
A sacred place will be taken to consist of no more than a reservoir of water located at a distance, and beauty will be thought to depend on one's hairstyle. Filling the belly will become the goal of life, and one who is audacious will be accepted as truthful. He who can maintain a family will be regarded as an expert man, and the principles of religion will be observed only for the sake of reputation.
As the earth thus becomes crowded with a corrupt population, whoever among any of the social classes shows himself to be the strongest will gain political power.
Losing their wives and properties to such avaricious and merciless rulers, who will behave no better than ordinary thieves, the citizens will flee to the mountains and forests.
Harassed by famine and excessive taxes, people will resort to eating leaves, roots, flesh, wild honey, fruits, flowers and seeds. Struck by drought, they will become completely ruined.
 The citizens will suffer greatly from cold, wind, heat, rain and snow. They will be further tormented by quarrels, hunger, thirst, disease and severe anxiety.
The maximum duration of life for human beings in Kali-yuga will become fifty years.
By the time the Age of Kali ends, the bodies of all creatures will be greatly reduced in size, and the religious principles of followers of varṇāśrama will be ruined. The path of the Vedas will be completely forgotten in human society, and so-called religion will be mostly atheistic. The kings will mostly be thieves, the occupations of men will be stealing, lying and needless violence, and all the social classes will be reduced to the lowest level of śūdras. Cows will be like goats, spiritual hermitages will be no different from mundane houses, and family ties will extend no further than the immediate bonds of marriage. Most plants and herbs will be tiny, and all trees will appear like dwarf śamī trees. Clouds will be full of lightning, homes will be devoid of piety, and all human beings will have become like asses. At that time, the Supreme Personality of Godhead will appear on the earth. Acting with the power of pure spiritual goodness, He will rescue eternal religion.
(SB 12.2.1-17)
Me: (very surprised) Really!!
Mataji: Of course, don't you read Bhagavatam daily?
Me: (ashamed) No mataji.
Mataji: well you should read it. You can now read Bhagavatam on your mobile also, there so many apps.

Me: (more ashamed) Actually I have downloaded all those apps but I do not get time to read SB.
Mataji : I am really worried about future. Should we wait for the Kali yuga to progress at a rapid pace to realise the urgency of going back to Godhead.
Me: (very ashamed) I will start reading Srimad Bhagavatam soon.

Mataji : I am really worried. I do not even know when our time will be up and then we will be born again in this Kali-yuga ('mildly' practicing Krishna consciousness ensures at least a human birth)

Me: I am very sorry mataji, I will read it the moment I reach back my room, just now, from today onwards. Thank you so much mataji, I am most grateful to you for stopping me and guiding me to get serious about going back to Godhead and the importance of reading Srimad Bhagavatam daily.

I also remember another conversation with very senior devotee last week who cautioned us that Maya is very clever and she catches us at several levels. At first she will try to catch us at four regulative principles. If she is not successful there then she will try to catch us 'sadhu ninda' (making offenses against devotees). If she is not successful there then she will catch us with distractions.
What to do?
Närada advises that one should "patiently endure." This is advice for the devotee. He should fully engage himself in Kåñëa consciousness with the goal of going back to Godhead, and in the meantime he should tolerate the dualities of life. As Lord Kåñëa advises Arjuna, "O son of Kunté, the nonpermanent appearance of happiness and distress, and their disappearance in due course, are like the appearance and disappearance of winter and summer seasons. They arise from sense perception, O scion of Bharata, and one must learn to tolerate them without being disturbed" (Bg. 2.14). "Patiently endure" does not mean that one should stoically put up with life's dualities and not fully engage in Kåñëa consciousness! The devotee spends all his days and moments wholeheartedly engaged in devotional service, but still he has to contend with material upheavals. So in the face of these inevitable changes, he should patiently endure and go on chanting Hare Kåñëa.
(Narada Bhakto Sutra, 77p)
Be always conscious about…
The symptoms of Kali-yuga are very severe, and they will grow more severe. The duration of Kali-yuga is 432,000 years, and although only 5,000 years of it have passed, already we find so many difficulties, and the more we grow into this Kali-yuga, the more the times will be difficult. The best course, therefore, is to complete our Kåñëa consciousness and return home, back to Godhead. That will save us. Otherwise, if we come back again for another life in Kali-yuga, we shall find difficult days ahead, and we shall have to suffer more and more.
(Teachings of queen Kunti, 15)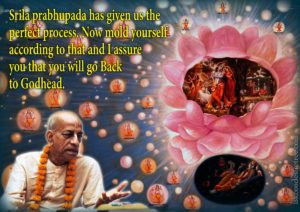 All glories to Sri Guru and Gauranga.
All glories to Srila Prabhupada.