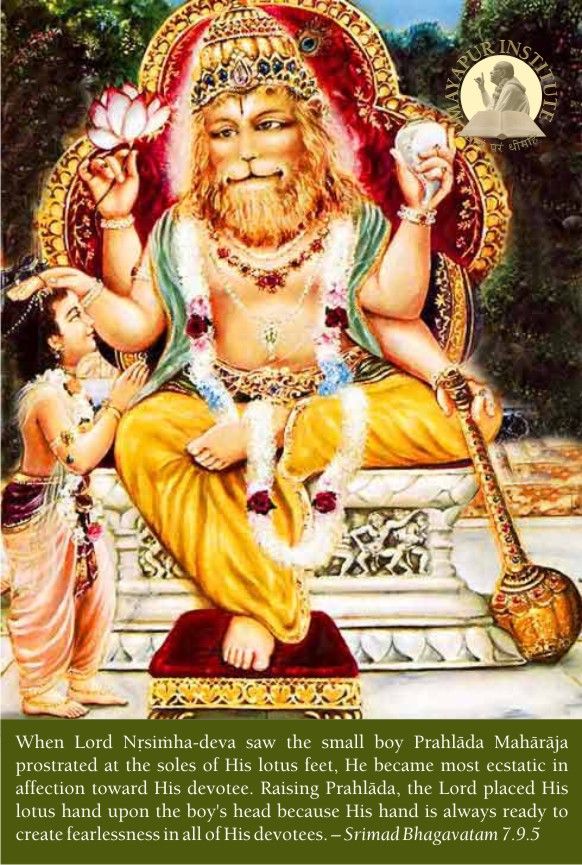 Hare Krishna dear devotees,
Its summer time, the ideal time to get around churning some butter. Let us try to churn the following benediction given by Lord Narasimha to Prahlada maharaj on hearing their pastime.
य एतत्कीर्तयेन्मह्यं त्वया गीतमिदं नरः
त्वां च मां च स्मरन्काले कर्मबन्धात्प्रमुच्यते
ya etat kīrtayen mahyaṁ tvayā gītam idaṁ naraḥ
tvāṁ ca māṁ ca smaran kāle karma-bandhāt pramucyate
One who always remembers your activities and My activities also, and who chants the prayers you have offered, becomes free, in due course of time, from the reactions of material activities.
(SB 7.10.14p)
One who always remembers your activities and My activities also ( Srvanam Kirtanam)
A very direct understanding is to have regular Sravanam Kirtanam about the pastimes of Lord Narasimha and Prahlada. Sri Caitanya Mahaprabhu used to hear Prahlada maharaj's pastimes repeatedly. We can also hear it from Srila Prabhupada, he gave numerous lectures glorifying Prahlada, listening to them repeatedly will undoubtedly instill a taste for the same. This is indeed our process Sravanam Kirtanam- we hear the glories and then we sing the glories!
Another way of looking at this is asking, "Who is Lord Narasimha?" Keshava dhrita–narahari–rupa! So Lord Narasimha is Krishna Himself, only in the form of a half man-half lion. So we can broaden our understanding of the above verse to further include 'One who always remembers Krishna's activities and the activities of His pure devotees'.
Where does Krishna Himself speak about His own self and His devotees? Bhagavad Gita. Which scripture speaks about pastimes of Krishna with His devotees? Srimad Bhagavatam. One cannot stress the importance of these two scriptures enough in the lives of all the devotees, irrespective of their level of realisation. In fact we may even add that one, but not the only, way to externally see a devotee's attachment to Krishna, and his level of realisation, is by seeing how attached one is to specifically these two scriptures- Srimad Bhagavatam and Bhagavad Gita. We must, therefore, read them daily. Sravanam Kirtanam of Bhagavad Gita and Srimad Bhagavatam.
and who chants the prayers you have offered
Krishna is a person and just as any person He has likes and dislikes. Among many other things Krishna likes is, He has a very strong liking for the prayers offered by His pure devotees. Since they are filled with immense love and attachment for Him as a person, He simply loves them.
One way to understand this line of the verse is obviously to read the devotionally enriched prayers offered by Prahlada in Srimad Bhagavatam, they are there in SB 7.9.
Knowing again that Lord Narasimha is none other Krishna Himself, in a half man- half lion form, we can then expand the meaning to include all the prayers offered in Srimad Bhagavatam by Brahma ji, lord Siva, Vrtasura, Gajendra, Dhruva, it is full of so many wonderful prayers by surrendered devotees. We can read them regularly, Krishna likes to hear them! Sravanam Kirtanam.
Another way to look at this is going through prayers offered by our acharyas. This implies, we sing the bhajans of our acharyas as much as we can. Simply by developing the habit of daily singing bhajans of our acharyas we can receive their mercy and gradually our consciousness may be aligned with their mood. They have poured their heart in their bhajans. There is no other natural and easier way to get a peek in the hearts of our acharyas and also get our consciousness purified at the same time. Let us make a habit to sing these bhajans to Thakurji daily! Manifold benefits and benedictions await us. Sravanam kirtanam
becomes free, in due course of time, from the reactions of material activities
Lord Narasimha is declaring that the simple act of remembering His pastime with Prahlada maharaj and by reciting the prayers offered by Prahlada maharaj, one can become free from all reactions of material activities. All reactions, sinful and pious, would be gone! What will be left in our heart- remembrance of Krishna, His name, His form, His qualities and His pastimes! One becomes 'jivan mukta' (liberated in a material body) in this lifetime itself! What exalted yogis fail to achieve by thousands of years of austerities and meditation, sincere and surrendered devotees can achieve it in this very lifetime, simply by hearing about Krishna and His devotees. This is the uniqueness of Bhakti yoga , specifically the process given by Sri Caitanya Mahaprabhu. This process is safe, certain and sublime. So sravanam kirtanam of Krishna leads us to Vishnu Smaranam in a very natural way.
What about the result of remembering Krishna's pure devotee?
Jaya Gauranga : I remember one lady raised her hand after Prabhupada had finished a Bhagavad-gita class as she had a question. She asked, "In the Bhagavad-gita it is said if one thinks of Krishna at the time of death, one will go to Krishna. Now my question is, what if I think of you at the time of death? Will it have the same effect?"
Prabhupada didn't answer right away. He closed his eyes for two or three seconds as if he was searching for the answer and then he smiled and said, "That is very nice." He said, "Yes, it will have the same effect."
(Memories Anecdotes of a Modern Day Saint – Volume 3 by Siddhanta Dasa)
I hope and pray that we could taste some butter from this churning.
All glories to Sri Guru and Gauranga.
All glories to Srila Prabhupada.
Your servant,
Giriraj dasa