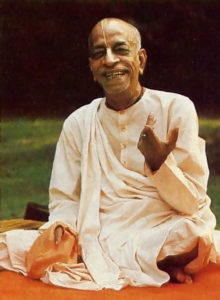 Hare Krishna dear devotees,
Let us churn a verse from the nectarean milk of Srimad Bhagavatam on Ekadasi and see if we can get some butter from it!
kañcit kālam athāvātsīt
sat-kṛto devavat sukham
bhrātur jyeṣṭhasya śreyas-kṛt
sarveṣāṁ sukham āvahan
Thus Mahātmā Vidura, being treated just like a godly person by his kinsmen, remained there for a certain period just to rectify the mentality of his eldest brother and in this way bring happiness to all the others.
 Thus Mahātmā Vidura:
Bhagavad gita 9.13 gives the definition of a mahatma
mahātmānas tu māṁ pārtha daivīṁ prakṛtim āśritāḥ
bhajanty ananya-manaso jñātvā bhūtādim avyayam
Those who are not deluded, the great souls, are under the protection of the divine nature. They are fully engaged in devotional service because they know Me as the Supreme Personality of Godhead, original and inexhaustible.
One such mahatma or great soul is Srila Prabhupada, who was never deluded. He remained under the protection of internal energy of Krishna, from his birth till the last moment of his manifested pastimes on this planet. To teach us how to practice it, he not only himself remained engaged in devotional service to Krishna all his life but also engaged everyone and everything in the service of Krishna. An acharya, a mahatma, a godly person from the spiritual world.
Although I had immense opportunities to indulge in the four principles of sinful life because I was connected with a very aristocratic family, Krishna always saved me, and throughout my whole life I do not know what is illicit sex, intoxication, meat-eating or gambling. So far my present life is concerned; I do not remember any part of my life when I was forgetful of Krishna.
(Letter to Tamal Krishna, June 21st 1970)
being treated just like a godly person by his kinsmen
We are all Srila Prabhupada's kinsmen, being his son/daughter or grand son/daughter. We all do, and should continue to, worship Srila Prabhupada's lotus feet like a godly person from the spiritual world. He is a Premi bhakta, a nitya sidha, an eternal associate of Krishna, who came down from the spiritual world to liberate us. As his followers it is our duty to glorify him every day,  both within our heart as well as by our actions.
One who is actually serious about advancing in devotional service should desire only to satisfy the previous ācāryas. Ei chaya gosāñi yāra, mui tāra dāsa. One should always think of oneself as a servant of the servant of the ācāryas, and thinking this, one should live in the society of Vaiṣṇavas.
(CC Madhya 19.156p)
Remained there for a certain period
we can see this from different angles of vision.
Srila Prabhupada remained here for a certain period from 1st September 1896 to 14th November 1977.
Within this period also, Srila Prabhupada actively preached from 1966 to 1977, twelve years.
However Srila Prabhupada also declared that his books will be law books for humanity for next 10,000 years which means that Srila Prabhupada will be present, in the form of his books and instructions, for next 10,00 years! This is the 'certain period' this godly person will remain here on this planet.
Reporter: What will happen to the movement… when you die?
Prabhupāda: I will never die.
Devotees: Jaya! Hari bol! (laughter)
Prabhupāda: I shall live from my books, and you will utilize.
(July 16, 1975, San Francisco)
Just to rectify the mentality of his eldest brother
Srila Prabhupada saw everyone as part and parcel of Krishna. Sri Caitanaya Mahaprabhu sent him, His senapati bhakta, to rectify the mentality of the whole kali yugian population, who is very much susceptible to forget God, to remind all of us about our eternal nature, our eternal father, our eternal home and our eternal relationship with God. He was was compassionate upon every single soul on this planet. Krishna sent him for mass liberation.
"How many devotees do you have?" a reporter asked.
"Unlimited," Prabhupāda said. "Some admit and some don't admit. 
(Srila Prabhupada Lilamrta, chapter 35)
And in this way bring happiness to all the others.
By his books Srila Prabhupada gave and distributed the essence of vedic knowledge to entire humanity. Srila Prabhupada circled the globe 14 times sowing the seed of Krishna consciousness  in millions of souls all around the world. Thus he opened the door of eternal happiness for everyone, irrespective of our nationality, religion or sex.
So by their actions the pure devotees of the Lord can render any place into a place of pilgrimage, and the holy places are worth the name only on their account. Such pure devotees are able to rectify the polluted atmosphere of any place.
(SB 1.13.10p)
I hope by churning this verse we could taste some butter.
By sincerely and seriously reading Srila Prabhupada's books daily all of us can taste the transcendental butter churned by a premi bhakta, a godly person, a mahatma, a special soul from Goloka Vrindavana, Srila Prabhupada.
All glories to Sri Guru and Gauranga.
All glories to Srila Prabhupada.
Your servant,
Giriraj dasa