Hare Krishna
5th December, 2014. Gurgaon
As the year 2014 comes to I feel inspired to share and thank the devotees who helped me and inspired to take baby steps in Krishna consciousness. I, then, remembered how I had written a blog in Jan 2013 ( click here to read the same) and I thought let me take the same format and list down my own 24 gurus.
Let me recount that Shri Dattatreya had twenty-four teachers from nature as he told King Yadu…. The earth, air/breeze, sky, fire, the sun, pigeon, python, sea, moth, elephant, ant, fish, Pingala the courtesan, arrow-maker, infant/playful boy, the moon, honeybee, deer, bird of prey, maiden, serpent, spider, caterpillar and water are my twenty four preceptors.
Here is my list for 2014, this is not in any particular order, I am writing as I remember them.
HG Rukmini Krishna Prabhuji, Delhi : He is and would always remain my shiksha guru and guide, whatever little I am today in my spiritual life is all thanks to him. Every time I listen to Prabhuji's class I can see the quality of preparation behind it. I learn from prabhuji how one must always prepare well for his class, picking a topic and expanding on it and ensuring that devotees take home some learning from each class.
ShyamSundar Krishna Prabhuji , Gurgaon : Prabhuji remains a very dear friend cum guide. I feel so inspired by his level of service. Prabhuji serves the local ISKCON centre very well. The amount of effort he pitches in, with the right attitude, and how he helps devotees in time of their need is very inspiring for me. On top of that prabhuji has a unique knack to ask open ended questions to make any class or discussion interactive.

ShyamVihari Prabhuji & Shyamangi Radhika Mataji, Surangi Mataji, Parmeshwari Mataji and so many other devotees : What a feeling they have to serve their Guru, small things like who is going with Maharaj, lack of a back pillow in a class, a foot mat, they all have very good bhava to serve guru. I can only pray to them that by their association I too get same bhava to serve senior Vaishanavas.

Mukundapriya Prabhuji, Surat : I personally experience how Prabhuji served Guru Maharaj in Gurgaon. Prabhuji will just sit outside Maharaj's room like a servant, no questions, no comments, just there as a dedicated servant. I felt very inspired and try to copy the same feeling while serving Guru Maharaj.
5. Mukunda Prabhji., Ujjain : Prabhuji is a senior and very humble devotee. He visited us this year and bowled us over with his humility and honesty by sharing his challenges in spiritual life and asking advice from devotees half his age. Prabhuji acted as if to teach us this attitude. He showed me that I should never feel shy about asking help about any challenge I may face. I acted on it and got benefited.
HG Vidurpriya Prabhuji, Delhi : Prabhuji is a senior preacher and has such an affable personality and everyone loves him. The quality I learn from him is `no envy'. He is always pleased to hear glorification of everyone and there is never a tinge on envy in him.

HH Gopal Krishna Goswami Maharaj : I respect him so much. There was a recent incident where I personally realised how merciful and compassionate Maharaj is towards all. My day is simply made when Maharaj's merciful eyes fall on my fallen body and soul.

Tulasi Maharani : She is my guru in many ways, for the time being I can just say that the reciprocation and the mercy I received from her taught me to inculcate similar feelings for others, which I have yet to even start. I became aware of so many offenses I did while serving her initially, and I am sure I still don't serve her properly, but she reciprocated just on some tinge of right feeling in my heart.
Rasikakeshava Prabhuji, Gurgaon : Prabhuji is one of the more sincere devotees in our small town. Prabhuji came to our home on way to his office, he works in a MNC co., I was surprised to see him wearing tilak to office. It was light and not as thick and bright we usually wear to temple but it was there and Prabhuji inspired me to follow the same. Now, most of the days I wear a very light tilak to office, no longer water, all thanks to him.

Dhama : I wrote about my experience few weeks back on how dhama reciprocates when we try to serve than trying to enjoy its potency for our ownself. Its a big learning for me and I pray that always remember it. I learnt that I can serve dhama by serving devotees in the Dhama and visit as a guide for new people rather than just about me and Dhama.

HH Bhakti Vijnana Mahaaraj : I love Maharaj and his style of explaining complex topics. It was only after hearing Maharaj's lecture on how chanting purifies scientifically that I looked inside my own heart and pushed myself to improve my chanting. It was his seminar where I realised the potency of chanting. My chanting will never be the same, even on the worst of the days. I have written two unfinished blogs sharing what I learned in two seminars but they are turning out to be too long and

Kirtana : I am not a very Kirtan person, I sure like them but lecture is always my first love. This year, after a gap of two years, I again attended the Barsana retreat by HH Sacinanadan Maharaj, for two days only. When I reached I found that it was the day of the 12 hour kirtan. At first I felt sad as I thought O! I missed all the lectures/katha and now one day will only be kirtan. Maharaj immediately put everyone in to the right mood to be absorbed in the kirtan and then it was one superlative performance after another. Later, how the kirtan ended for me is a topic for another blog in future. Let me share my chanting improved 200%, atleast for the time being. And what a feeling, it was if my anarthas were falling like huge sheets of glass, I could literally hear them breaking. I will never forget that experience my whole life. I will never undermine the potency of Kirtan, ever. Kirtan is my new guru.
Asit Prabhuji, Gurgaon : Prabhuji is one of the most senior and respected devotee in Gurgaon and teaches Vaishnava etiquette by his own example. So many incidents in the past one year which were eye openers for me. I feel so fortunate that we have a devotee with such high standard of manners which we can copy wholeheartedly.

HG Damodar Prabhuji, Vrindavan : Prabhuji is very sweet and does very nice katha and more sweeter Vaishanava bhajans. Prabhuji gave me the taste to hear and learn Vaishanava bhajans, I always look forward to his class and it is because of him only that I fell in love with `Hari haraye namah krishna Yadvaye namah' and other Vaishnava bhajans.

Śrī Caitanya-caritāmṛta : I had so much hankering for knowing more and more and would collect all sort of books. I would read them for few days then jump to a new one. This continued till I read Śrī Caitanya-caritāmṛta . It was as if this is what my soul was searching from eternity. If I ever learn Bangla language, it will be only to taste its verses.
Guru's words : What a guru. I learnt the hard way what is the consequence when I ignore instructions of my guru and also learnt in a very pleasant manner what are benefits when I cling to every single word of my guru, the results are many times disproportionate to my service. I have taken the words from a guru or instructions from a senior devotee as a separate personality whom I must server if I want to progress more than what I deserve.

Servant of the servant: I went to serve guru maharaj during the recent Kanpur temple opening. After reaching the temple I found that two senior god brothers have already arrived with the same intent. Instead of being happier I at first felt a tinge of sadness in my heart as I thought that I will not get the opportunity to serve Guru Maharaj but then I let it go as I thought that these devotees are more qualified to serve guru maharaj than me and it is better only that they serve Guru Maharaj well rather than my service, which is basic at best. Then it dawned upon me that I can learn from them by serving them instead. I tried my best to serve them and I came back even happier than serving guru maharaj directly. I realised that this is my right position, servant of servant and I also realised that it is more pleasing to my soul. So now whenever I have the opportunity I try to serve those devotees who are serving Guru Maharaj, I feel happy to be a small inconsequential devotee who is assisting the direct servants in their service to guru. I never knew that being servant of the servant could be more satisfying than serving directly.

Kartika month : This was the first year where we sang Damodarashtakam almost every evening at home. Result… very nice reciprocation, I got so many realisations and for the first time I learnt to meditate on the form of Lord while singing. I have realised that kartika month too is my guru and when I serve him, the reciprocation and learning are huge.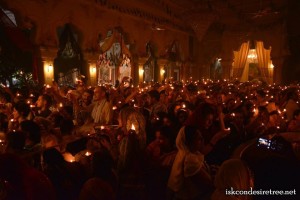 19. HH Tamal Krishna Goswami Maharaj : I hear maharaj's seminar on Damodarashtakam since last 2 years and it has left a lasting impression on my heart. It was only after hearing his prodding questions that inspired me to go a bit internal and improve my Sadhna Bhakti.
Time : I learned how flexible time is actually. I did hear in a lecture that time can contract and expand but realised it only this year. I found so many times that while chanting, in the kirtan, the time stops, literally. I realised that as we go from gross to subtle and further subtle levels we can easily experience it. Time teaches me to put my heart into everything I do and then time takes a back seat.

Association of Guru Maharaj :I love to relish just being near him. I feel that I am already participating in Lords pastimes. Days seem longer, just guru's association in itself seems to be perfection for me.

Srila Prabhupada : I got the service to send one Prabhupada quote to our local temple devotees, Initially I would cut and paste from ISKCONdesiretree and later I pushed myself to pick one from whatever I read that day. This habit continues since many months. It gave me unshakable faith in the writing of Srila Prabhupada as I realised how easily I am able to get quotes from almost every second verse and how they are absolute in themselves and need no explanation nor depends on some time, place or circumstances, unbelievable. I learn from Srila Prabhupada everyday. He is my eternal shiksha guru.

Association of devotees : Another guru. I have started considering `association of devotees' as a personality who cools my soul. Innumerable times I have benefited spiritually by just being in the association of devotees. So many devotees showered their mercy on me this year, HG Madhavananda Prabhuji, Amitab Krishna Prabhu. I had to open my introvert and dry heart and they poured their mercy in it and making it more malleable.

Hearing Krishna Katha : Today I consider Krishna Katha as independent person and non different from Krishna Himself in many ways. This guru gives something rare…. greed for Krishna.
sādhu-saṅge kṛṣṇa-nāma-ei-mātra cāi
saṁsāra jinite āra kona vastu nāi
Other than sadhu sanga and the name of Krishna, nothing else is needed to cross over the ocean of birth and death.
As I wrote in my last year blog that apart from these 24 gurus, I have a special half moon in my life, my spiritual master. He is my lord and my master, there is nothing that I have learnt from my own capability or ability, everything has happened due to the sheer causeless mercy of my spiritual master. I have understood that my eternal svarupa is to be his servant's servant. Goal of my life ? What can I do to please him.

According to the deliberate opinion of all revealed scriptures, the spiritual master is non different from Kṛṣṇa. Lord Kṛṣṇa in the form of the spiritual master delivers His devotees. (CC Ādi 1.45 )
Kṛṣṇa, the Supreme Personality of Godhead, is identical with the Vedic hymn known as the Kāma-gāyatrī, which is composed of twenty-four and a half syllables. Those syllables are compared to moons that arise in Kṛṣṇa. Thus all three worlds are filled with desire. (CC Madhya 21.125)