Hare Krishna.
31Dec, Ujjain.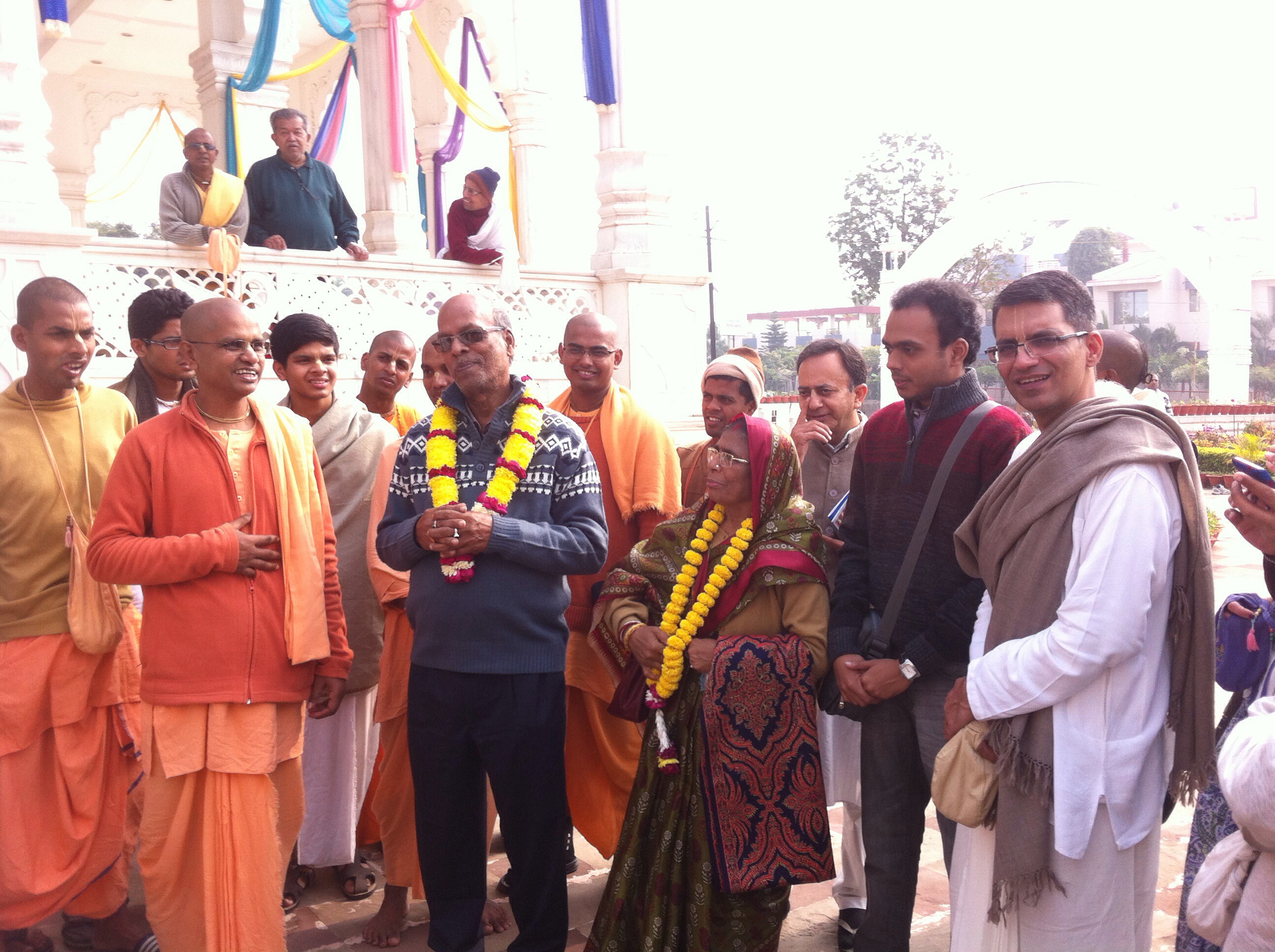 As we all stood outside the dining hall, after breakfast, soaking in the warm winter sun, there was a little commotion. I turned my head I saw devotees gathering around someone, my first thought was that some Sanyasi or senior devotee has newly arrived. Then I saw that a family is being welcomed and garlanded. They looked very simple and before I could ask someone, a devotee whispered in my ear 'do you know who is he ? He is Srila Prabhupada's youngest son and his family '. I was taken a back by this information and it took me a few seconds to absorb it. I then moved closer to them and, of course, one could see a marked resemblance with Srila Prabhupada. It was so good to see them.
We can see them in the above picture.
Later, Guru Maharaj called them on the stage and glorified them and spoke how Srila Prabhupada named each of his son after a holy place, Prayag, Mathura and Vrindavan. The youngest, Vrindavan Prabhuji, was amongst us today, he spoke in Bengali about how proud he felt being Srila Prabhupada's son and how he had a discussion with Srila Prabhupada for two hours before Srila Prabhupada left for USA. And then Guru Maharaj shared how Vrindavan Prabhuji had come stay with Srila Prabhupada in Vrindavan and how this youngest son was closest to Srila Prabhupada.
It was my good fortune to be in Ujjain as Srila Prabhupada's son and his family arrived. Seeing them , I felt a very warm feeling in my heart and I somehow felt more close to Srila Prabhupada as if I got a peek inside the private life of Srila Prabhupada.
I know Srila Prabhupada is happy with us being together, cooperating with each other, and most happy with Guru Maharaj.
All glories to Srila Prabhupada.