Hare Krishna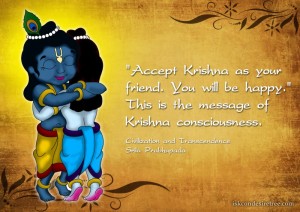 Let me share how I came into Krishna Consciousness. We had invited an old acquaintance to help our start-up company and give us some `gyaan' on how to scale it and make it big. His name, Mukul Harmilapi. He will change my life for ever.
We hit it off pretty quickly and were soon discussing many things apart from business. He was, and still is, very intelligent and very calm. He would answer each problem at office with a very simple solution and I would wonder why couldn't I think of it. I was a little fond of reading and he suggested some books , even gave me a few. The first spiritual book which he gave me was Perfect questions, perfect answers. It definitely impressed me with its logical answers.
Let me give you some background about my own self. I was a `karmi' to the hilt. I was most fond of eating outside, twice a week. As I grew materially I became fond of liquor and became a big fan of beer. My day could not end without an evening drink and some chicken tikka or snacks to go with it. Weekends were out to the mall and I was fond of this new lifestyle and all the vices which come with it, but never satisfied at heart.
Now after I read Perfect questions, perfect answers I told Mukul that the book was very good. It was surely very logical and the discussion about animals being killed for the taste of our tongue' left some impression on me. The next book he suggested me was Bhagavad Gita by Srila Prabhupada. My first reaction, I know Bhagavad Gita. I have been reading Bhagavad Gita for last 30 years. Everyday after taking my bath I would read 2 pages sitting in front of the altar. This habit I picked it from my father who would read it for at least 20 minutes after his bath. He told me this book is different. I replied to him that the verses can not change and I know them well. He persisted and I reluctantly opened the book and read a verse, I think it was the first verse, and its purport. I thought let me read one verse only I find something different would I accept it. Indeed it was different. I took it home and started reading it, each page, rather each line revealing more to me than what I had learned in last 30 years. It was like Goddess Saraswati reading it to me. I started looking forward to reading it every morning. I also felt ashamed on that all these years I have been reading it like a ritual without ever bothering to understand it's meaning and practical application. Yes, that explains it wellPractical Application' , that's what Srila Prabhupada taught me, that Bhagavad Gita should be applied in practice not just read it like a good book and carry on with our daily life. I really felt ashamed on the kind of life I was leading and what Srila Prabhupada explained so logically what Krishna wants us to lead.
In the past I have never been a temple person and would never visit a temple except for some vacation trips to may paternal grand father's home in Himachal Pradesh. I was born there so I had some natural affection for all the places there, lots of Devi temples. In between I started visiting Vaishno Devi mata's abode. It began with enthusiasm and I continued visiting there for many years, keeping strict fasts during navratras. It slowly fizzled out as my devotion became thinner and thinner. The navratra fasts also went away as I saw people who didn't keep them also were doing fine in life, there was no basis of my faith . There was no relationship. I never asked anything from Mata but liked visiting her. Whenever I would to go to Himachal I remember going to a small Shiv temple near our home. No relationship or desires I just liked doing it. Sometimes there I could feel or imagined Lord Shiva's presence but coming back to Delhi all my `devotional' feelings will evaporate. I would forget them completely, only to be back when I would visit them in next summer vacation.
In between I asked Mukul what more could I do and he told me that I could chant Maha Mantra. I started chanting in night counting it on my fingers. I quickly came to chanting 16 rounds on my fingers. I was on a different `high' and chanting felt good. Mukul would visit our office once a week and slowly business took a back seat in our discussions.