Hare Krishna
22rd April, 2014, Gurgaon.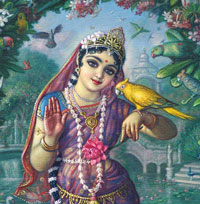 I had written in my previous two blogs about power of prayer (blog1, blog2) and then in another two blogs about most merciful Tulasi maharani (blog3, blog4). As I experience new realisations they make my faith firm in this most unusual spiritual journey.
During the last winter, unlike in the past, all the Tulasi Maharanis remained very healthy this year. Unfortunately, Gurgaon had some unseasonal rains after the winter was over and one of the eldest Tulasi could not survive the drastic change in the weather. I kept her in the sun later for many days but to no avail. I felt very sad as I shared a very special relationship with that particular Tulasi and felt very guilty that I did not bring her inside while it rained heavily few days. My wife suggested me to remove the dry stems and we can get a new Tulasi plant. Somehow I didn't agree to that suggestion, my guilt of not taking good care of her made me keep her as it is. I kept on watering her her daily and prayed her to forgive me for not taking good care in the bad weather and begged her to come back.
It's almost 2 months now, last a week  I saw a small green shoot coming out. Initially I thought that it was some wild plant growing on the side but after a few days I knew she has forgiven me as I could clearly  see it was Tulasi. She came back ! Here is the picture I clicked today morning.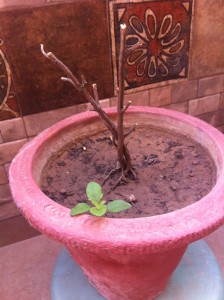 I was so very happy, I was elated. I thanked her profusely and then ran inside to call my children and wife and showed them that how Tulasi maharani listened to my prayers from the and came back. They were surprised as they  had seen me watering dry stems since many weeks. Tulasi maharani is indeed the most merciful.
Tulasi Maharani Ki Jai !
CC Ādi 3.105-106: Advaita Ācārya considered the meaning of the verse in this way: "Not finding any way to repay the debt He owes to one who offers Him a tulasī leaf and water, Lord Kṛṣṇa thinks, 'There is no wealth in My possession that is equal to a tulasī leaf and water.'
Madhya 22.125: After item twenty-six (meditation), the twenty-seventh is to serve tulasi, the twenty-eighth is to serve the Vaisnava, the twenty-ninth is to live in Mathura, the birthplace of Lord Krsna, and the thirtieth is to read Srimad-Bhagavatam regularly.
CC Antya 3.137: "Chant the Hare Kṛṣṇa mantra continuously and render service to the tulasī plant by watering her and offering prayers to her. In this way you will very soon get the opportunity to be sheltered at the lotus feet of Kṛṣṇa."
KB 30
The gopis then began to address the tulasi plants: " Dear tulasi, you are much beloved by Lord Krishna because your leaves are always at His lotus feet."
SB 3.16.21: Srila Prabhupada writes in the purport 'The goddess of fortune, Lakṣmī, is sometimes envious of the tulasī leaves which are placed at the lotus feet of the Lord, for they remain fixed there and do not move, whereas Lakṣmījī, although stationed by the chest of the Lord, sometimes has to please other devotees who pray for her favor'.
In his poem titled Sri Sankalpa-kalpadruma, Srila Visvanatha Cakravarti Thakura has prayed:
vrindavana-sthira-caran paripalayitri
vande tayo rasikayor ati-saubhagena
adhyasi tat kuru krpam ganana yathaiva
sri-radhika-parijanesu mamapi siddhet
O Vrinda-devi, O protectress of the moving and non-moving living entities in Vrindavana, you are wealthy in the mercy of the Divine Couple who enjoy pastimes in Vraja. Please be merciful to me. Please place me among Sri Radha's associates.
he sri-tulasy uru-krpa-dyu-tarangini tvam
yan murdhni me carana-pankajam adadhasvam
yac caham apy apibam ambu manak tadiyam
tan me manasy udayam eti manoratho'yam
O Srimati Tulasi-devi, O celestial Ganges river of mercy, it is because I once placed my head at your lotus feet and drank some drops of water that washed your lotus feet, that these desires have risen in my heart.
kvaham parah sata-nikaty-anuviddha-cetah
sankalpa esa sahasa kva su-durlabhe'rthe
eka kalpaiva tava mam ajahaty upadhi-
sunyeva mantum adadhaty agater gatir me
O Srimati Tulasi-devi, how low I am, my heart pierced by hundreds of offenses! How exalted and difficult to attain is my aspiration! Your causeless mercy is my only hope. It is by Your mercy that I, who am so fallen, can have these desires in my thoughts.
All glories to Tulsai maharani.
All glories to Srila Prabhupada.