Hare Krishna,
15th January, 2015. Gurgaon
I had a flight to catch to Bangalore on 14th of this week on a business trip. The flight was not too early but still I got up before my normal waking up hours, anxious that I chant some rounds before I leave, open the altar, offer bhoga to Lord, have breakfast prasadam and then leave in time for the airport.
I was able to do all the above but before leaving for the airport a thought crossed my mind `why can't I follow this every morning, why can't I wake up with same anxiety every morning and be all dressed up, anxious that now for next two hours or so I will be meeting Krishna ( While chanting His name). But no, I have no such feelings or anxiousness at all. A very shameful state of my mind.
As the luck would had it, I was reading the book `Madhurya Kadambini' in the flight and I found the below lines which very aptly describe my current state.


I constantly give up nectar of Krishna's name and always spend my time in such useless talk such as family life, security and what not. I received the precious jewel of bhakti by the mercy of Vaishanavas and my Spiritual master, I am so unfortunate that I kept it tied in the hem of my cloth. Unaware of its value, I was searching out for a cracked cowrie shell, a tiny speck of false happiness, on the shore of the ocean if mundane activities. Thus wandering here and there, I passed the years of my life in vain. Not practicing any activity of bhakti, I have simple shown lethargy.
This is exactly what I really am, a lazy and lethargic person in my spiritual journey.
Any hope for someone like me ? Sure there is.
Nityananda Prabhu's lotus feet !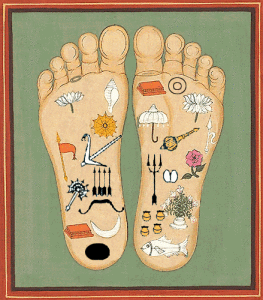 One of the signs on His foot is `Goad' (ankusa) – This mark indicates that meditation on Nitai's feet brings the elephants of the devotee's minds under control and keeps them on the right path.
So the only option left for me is to meditate daily on the lotus feet of Nityananda Prabhu and pray to Him to keep me on the right path.
I sincerely beg you to please pray for me that somehow I am able to meditate on Nitai's lotus feet every single morning and seek His mercy on this most fallen & lethargic soul.
All glories to Sri Guru and Gauranga.
All glories to Srila Prabhupada.