Hare Krishna.
17th November, 2016. Gurgaon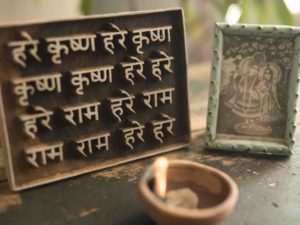 Cause
Even when a person becomes an offender unto the Supreme Personality of Godhead Himself, he can still be delivered simply by taking shelter of the Holy Names of the Lord: Hare Kåñëa, Hare Kåñëa, Kåñëa Kåñëa, Hare Hare/ Hare Räma, Hare Räma, Räma Räma, Hare Hare. In other words, the chanting of Hare Kåñëa is beneficial for eradicating all sins, but if one becomes an offender to the Holy Names of the Lord, then he has no chance of being delivered.
— NOD Ch. 8
Effect
My tongue has taste for so many sweets but it has still not developed a taste for the sweetness of the Holy Name.
I push my family for savory food but do not push my mind to relish the Holy Name.
My ears are always anxious to hear melodious sound but alas they have no such anxiousness to hear the melody of the Holy Name.
I have developed so many worldly affections but still not developed any attachment for the Holy Name.
I say sorry when I hurt someone but I never uttered sorry to the Holy Name after chanting a bad round.
I strive not to harm others but I have done so many offenses to the Holy Name. 
O Holy Name, indeed I am very fallen,
but you are known as the savior of the most fallen,
this way we have a relationship.
Invoking that relationship, I beg you to be merciful on this most insignificant shameless beggar.
O Holy Name I am begging you to please maintain me under your lotus feet.
Forgiving my past offenses,
I beg you to please give me a taste to chant your Holy Name.
And the remedy..
Hari he! tomäre bhuliyä  (from Çréla Bhaktivinoda Öhäkura's Çaraëägati)
hari he!
tomäre bhuliyä,  avidyä-pédäya,
pédita rasanä mora
kåñëa-näma-sudhä,  bhälo nähi läge,
viñaya-sukhate bhora
O my Lord Hari! Because of forgetting You, my tongue has become embittered with the disease of ignorance. I cannot relish the sweet nectar of Your holy name of Kåñëa, for I have become addicted to the taste of worldly pleasures.*
prati-dina jadi,  ädara koriyä,
se näma kértana kori
sitapala jeno,  näçi' roga-müla,
krame swädu hoya, hari!
If I sing that holy name of Yours aloud every day with warm affection, then as sugar candy taken medicinally destroys the very disease which makes it taste bitter (jaundice), so Your holy name, O Lord Hari, will cure my spiritual disease and allow me to gradually taste Your sweetness.
durdaiva ämära,  se näme ädara,
nä hoilo, doyämoya!
daça aparädha,  ämära durdaiva,
kemone hoibe kñoya
How great is my misfortune that I feel no appreciation for Your holy name, O merciful Lord! In such a lamentable state, how will I be freed from committing the ten offenses to the holy name?
anudina jeno,  tava näma gäi,
kramete kåpäya tava
aparädha jä'be,  näme ruci ha'be,
äswädibo nämäsava
If I sing Your name every day, then gradually by Your mercy the ten offenses will disappear, taste for Your holy name will grow within me, and then I shall relish the intoxicating wine of that name.
All glories to the most merciful Holy Name.
All glories to Sri Guru and Gauranga.
All glories to Srila Prabhupada