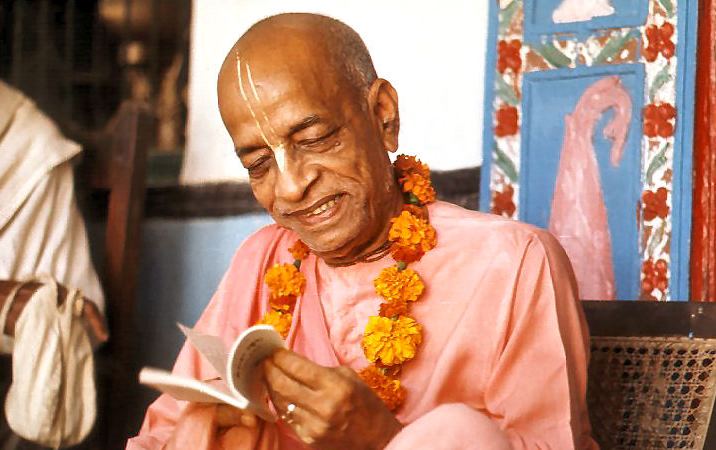 Hare Krishna Dear devotees,
Today morning I received a message from wordpress that today is the 6th anniversary of our blog site, forthepleasureoflordkrishna.com. It was a surprise for me as I felt that I started writing only 2-3 years back.
I tried to recall what prompted me to start writing a blog. It was a sharp urge within me to start writing. Before starting this blog I had never written anything in my whole life. I did my schooling from a Hindi medium school so my command over English language was quite poor and remains so even now. I was also shy and introvert. Still I felt a continuous urge to start writing. I did not know anyone in my circle who could help me so I searched on internet, found a site which gave step by step instructions on how to register a name for blog and start writing. It was a simple procedure even for a novice like myself.
I also checked the day when I wrote the first blog. The first blog is dated 23rd Aug 2013. The day before, 22nd August was the day Srila Prabhupada left for US and 21st August was Balaram Purnima, appearance day of Lord Balaram. I do not remember anything about the date but in all probability I would have started written the blog on 21st or 22nd August and would have posted it on 23rd August, without realising that the blog would show the date I posted rather than the one I started writing.
Today I also opened the first blog I wrote, reading it brought a smile on my face as I realised that I named this blog based on a SB lecture I heard from HG Rukmini Krishna prabhu, temple president of ISKCON Punjabi Bagh. In those days I used to go to ISKCON Punjabi Bagh temple twice a week, I would drive from Gurgaon to Delhi, hear Prabhuji's lecture, honor prasadam, quickly change my clothes in the car and then rush to office, which at that time was a short drive from the Punjabi Bagh temple. Whatever little progress I have made in my spiritual journey is simply a gift from HG Rukmini Krishna Prabhu.
I remember my initial excitement when I started writing blogs on ISKCONDESIRETREE and seeing how many devotees have read it, they would show the no. of views on the blog. I did not know how many people are reading my main blog site as I did not know how to get access to this data. Once in a while it would show my blog as the blog of the month on ISKCONDESIRETREE and like a small kid I will approach HG Rukmini Krishna Prabhu and proudly show my ranking to him. Prabhuji was happy to see me finally engaged in some service and encouraged me like an affectionate father. Thank you so very much Rukmini Krishna prabhu, your approval and encouragement inspired me to continue to write.
Many devotees helped me in this effort. The foremost was my dear friend Shyamsundar Krishna prabhu, then Sumeet Gupta. He was happy to see me writing blogs and always left a comment for each blog I would post. He would call me after each blog and discuss it. Whenever I would seek his advice would give honest opinion on how to write properly. He knew my limitations but still encouraged to write. He also wrote a couple of blogs on this site. His encouragement meant a lot to me. Thank you Shyamsundar Krishna Prabhu, I will remain forever grateful to you for so many ways you helped me in this service.
Later I also started copying my blogs on dandavats and felt encouraged that I am able to serve more devotees. It was a big encouragement for me to see my blogs published on the same platform where articles written by so many senior devotees were published. Thank you dandavats team for posting my childish blogs. Then something changed again.
Due to pressure at office I suffered from lack of time. At the same time the wordpress software got updated multiple times, it became more complicated for me to write on blog, simple writing tools got vanished from the menu. My enthusiasm dwindled. I did not even renew site's name, as a result the site went off the internet for few months. I was in double mind as to whether to continue to write on not.
Then I requested a very sincere and dear devotee in our group, Ronnie Prabhu, to help me out and he came forward. From finding small tools- how to justify a para, how to highlight a word in color, he would help me at any odd hour of the day. He also changed some settings and within few weeks the daily readership jumped 50%. All his efforts encouraged me to continue writing. Now for all practical purpose it is Ronnie prabhu is running this blog site, keeping tab on when to renew various registrations, which plugins to use, etc., for which I had no clue. I am simply writing, all the back-end is being managed by him. Thank you so very much Ronnie prabhu for all your support.
However it is all of you dear devotees and readers whose personal replies and comments on the blog kept me going. Without your response and encouragement this service would have stopped long time back. Thank you dear readers. Please feel free to leave your comments on the blog, write directly and give suggestions to improve the service.
Last but not the least I am most grateful to the lotus feet of My guru maharaj, all my shiksha gurus and to the lotus feet of Srila Prabhupada, without their mercy there would be no inspiration, no writing and no blogs.
My spiritual journey started by reading Srila Prabhupada's books. It is his lectures which inspire me to read his books carefully. It is Srila Prabhupada's mood which inspires me to share the knowledge with everyone. And it is the potency of Srila Prabhupada's purports which which attract visitors to this blog site. It is simply my own shortcoming that I am unable to present his teachings 'as it is'. Thank you Srila Prabhupada. On the occasion of your appearance day yesterday, I did not offer anything. I am now offering this blog site at your lotus feet. I pray and hope that this small service be somehow pleasing to you and your followers.
How have we done so far?
You be the judge. Here are few statistics, some are a surprise even for me. Till date we have posted 271 blogs, an average of 3.7 blogs per month. A total of 95,121 visitors from 170 countries visited the blog. The highest number are from India (59,944) and USA (46,146) and lowest from Ethiopia and Haiti (1 each). The number of times all the blogs have been viewed is 1,62,043. Currently the average view per days is 148. We have 482 subscribers. On August 23rd, two days before this Janmashtami, we had the highest ever single day viewership of 796 views. The top three blogs, not counting the home page, are Krishna's flutes (9,058 views), Demons in Krishna's pastimes (3,364 views) and Sambhanda Abhidheya and prayojana (3,313 views).
What's next?
With your kind blessings we will try to post more nectar from Srila Prabhupada's purports. We are also trying to upload Srila Prabhupada's entire audio lectures, properly indexed to each verse, on the site, which you we will be able to easily link via a free app with your smartphone and hear Srila Prabhupada's indexed audio lectures at your own convenience. Kindly bless us that we can continue this service. Thank you once again dear readers.

All glories to Sri Guru and Gauranga.
All glories to Srila Prabhupada.
your servant,
Giriraj dasa