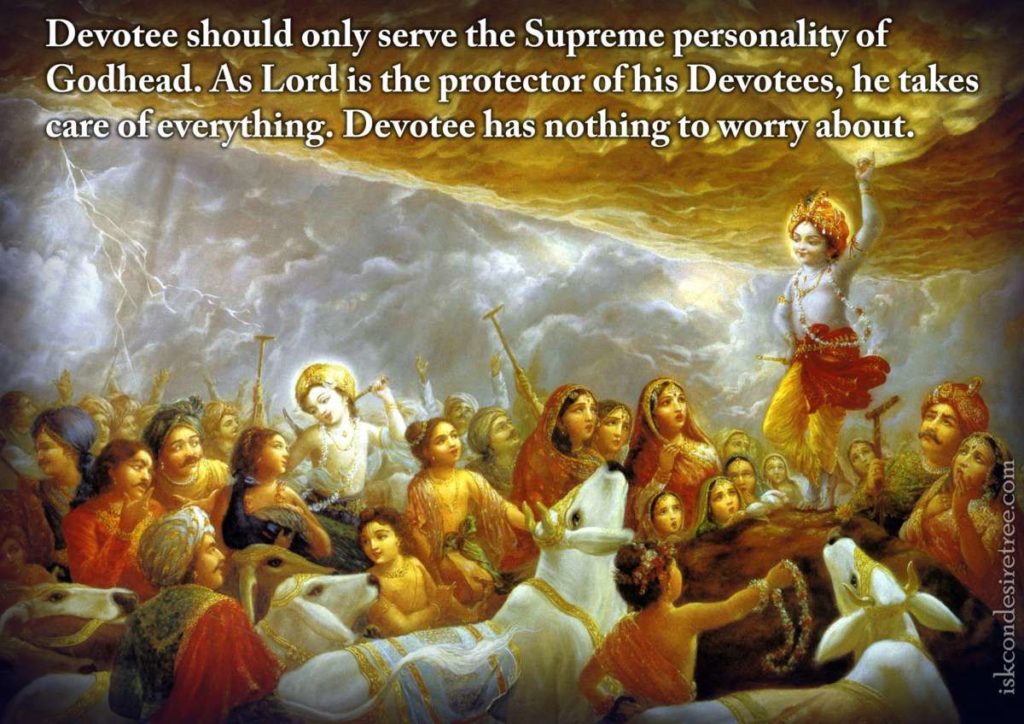 Hare Krishna and Pranams dear devotees,
In response to my last blog 'Turning distress into an opportunity', I received a few calls from devotees on taking shelter of Krishna in times of distress. In all the calls the crux was the same- Should we trouble Krishna with our material problems? Shouldn't bhakti should be practiced without any motivation. My response was- of course bhakti should not be motivated, which means we practice bhakti for no other purpose than to please Krishna. But when faced with challenges in our lives then whose shelter should we take? Should we place our faith in Krishna's hands or should we put it in the hands of some demigod, doctor, lawyer, money deposits, etc.?
As a small child depends exclusively upon his father similarly we, aspiring devotees, should practice keeping our faith only in Krishna. We do whatever else needed to be done but we should have the firm faith that the final decision is in the hands of Krishna and hence take shelter of Krishna only. Of course, as a dependent servant, we accept with love whatever Krishna finally decides to do about it.
This morning I read a beautiful verse from Srimad Bhagavatam and in his purport, Srila Prabhupada speaks about the importance of taking shelter of Krishna. I am sharing the same with you all of you.
tasyogra-daṇḍa-saṁvignāḥ  sarve lokāḥ sapālakāḥ
anyatrālabdha-śaraṇāḥ  śaraṇaṁ yayur acyutam
Everyone, including the rulers of the various planets, was extremely distressed because of the severe punishment inflicted upon them by Hiraṇyakaśipu. Fearful and disturbed, unable to find any other shelter, they at last surrendered to the Supreme Personality of Godhead, Viṣṇu.
Lord Krishna says in Bhagavad-gītā (5.29):
bhoktāraṁ yajña-tapasāṁ
 sarva-loka-maheśvaram
suhṛdaṁ sarva-bhūtānāṁ
 jñātvā māṁ śāntim ṛcchati
"The sage who knows Me as the ultimate purpose of all sacrifices and austerities, the Supreme Lord of all planets and demigods, and the benefactor and well-wisher of all living entities attains peace from the pangs of material miseries." The Supreme Personality of Godhead, Krishna, is actually the best friend of everyone. In a condition of distress or misery, one wants to seek shelter of a well-wishing friend. The well-wishing friend of the perfect order is Lord Sri Krishna. Therefore all the inhabitants of the various planets, being unable to find any other shelter, were obliged to seek shelter at the lotus feet of the supreme friend. If from the very beginning we seek shelter of the supreme friend, there will be no cause of danger. It is said that if a dog is swimming in the water and one wants to cross the ocean by catching hold of the dog's tail, certainly he is foolish. Similarly, if in distress one seeks shelter of a demigod, he is foolish, for his efforts will be fruitless. In all circumstances, one should seek shelter of the Supreme Personality of Godhead. Then there will be no danger under any circumstances.
There are innumerable examples – Gajendra, Kunti Maharani, Pandavas, all the Vrajavasis practiced it -Nanada Maharaj, gopas and the gopis. In all their challenges, they would call out only one person- Krishna!
Nanda Maharaj took shelter of Krishna
While Nanda Maharaja was returning home, he considered Vasudeva's warning that there might be some disturbance in Gokula. Certainly the advice was friendly and not false. So Nanda thought, "There is some truth in it." Therefore, out of fear he took shelter of the Supreme Personality of Godhead. It is quite natural for a devotee in danger to think of Krishna, because he has no other shelter. When a child is in danger, he takes shelter of his mother or father. Similarly, a devotee is always under the shelter of the Supreme Personality of Godhead, but when he specifically sees some danger, he remembers the Lord very rapidly.
Gopas always call out to Krishna
Since it was almost night and all the inhabitants of Vrindavan, including the cows and calves, were very tired, they decided to take their rest on the riverbank. In the middle of the night, while they were taking rest, there was suddenly a great forest fire, and it quickly appeared that the fire would soon devour all the inhabitants of Vrindavan. As soon as they felt the warmth of the fire, they immediately took shelter of Krishna, the Supreme Personality of Godhead, although He was playing just like their child. They began to say, "Our dear Krishna! O Supreme Personality of Godhead! Our dear Balarama, reservoir of all strength! Please try to save us from this all-devouring and devastating fire. We have no shelter other than You. This devastating fire will swallow us all!" Thus they prayed to Krishna, saying that they could not take any shelter other than His lotus feet. Lord Krishna, being compassionate upon His own townspeople, immediately swallowed up the whole forest fire and saved them.
Whole Vraja took shelter of Krishna
Ordered by King Indra, all the dangerous clouds appeared above Vrindavan and began to pour water incessantly, with all their strength and power. There was constant lightning and thunder, blowing of severe wind, and incessant falling of rain. The rain seemed to fall like piercing sharp arrows. By pouring water as thick as pillars, without cessation, the clouds gradually filled all the lands in Vrindavan with water, and there was no visible distinction between higher and lower land. The situation was very dangerous, especially for the animals. The rainfall was accompanied by great winds, and every living creature in Vrindavan began to tremble from the severe cold.
Unable to find any other source of deliverance, they all approached Govinda to take shelter at His lotus feet. The cows especially, being much aggrieved from the heavy rain, bowed down their heads, and taking their calves underneath their bodies, they approached the Supreme Personality of Godhead to take shelter of His lotus feet. At that time all the inhabitants of Vrindavan began to pray to Lord Krishna. "Dear Krishna," they prayed, "You are all-powerful, and You are very affectionate to Your devotees. Now please protect us, who have been much harassed by angry Indra."
Gopi's golden advise for us
Your lotus feet are the proper shelter of Your servitors.
I pray that it helped and it inspires us to take shelter of Krishna's lotus feet in all conditions- favourable or unfavourable.
All glories to the divine shelter of Krishna
All glories to Srila Prabhupada
Your servant,
Giriraj dasa