Hare Krishna.
14th November, 2016. Gurgaon.
Today is the last day of Kartika. Different devotees would have had different experiences and realisations in this Kartika. But for some fortunate devotees it will be the beginning of a full year of Kartika! Yes, it is indeed very rare and only some fortunate souls receive the mercy and inspiration to observe it properly for one full year (or a life time).
In one of the verses in Stavamala, Srila Rupa Gosvami, describes Srimati Radharani as Kartiki-devi. She is the presiding deity of this month. In Bhakti Rasamrta Sindhu, he describes Kartika Vrata as the Urja vrata. Urja means power, strength and empowerment. Who is the source of this urja, power and spiritual strength? Urjesvari, Srimati Radharani.  So this is the month we can receive spiritual strength, empowerment to increase our qualification for service and power to make rapid progress in bhakti. So most devotees observe Kartik vrata to somehow please Srimati Radharani.

Does this mercy departs on the last day of Kartika?
Let us hear what Srila Prabhupada has to say on it:
You have asked about the specialness of the month of Karttika, and the answer is that it is a special inducement for persons who are not in Krsna consciousness to perform some devotional service. For persons who are doing nothing in Krsna consciousness, it is an indirect inducement to take to devotional service in earnest seriousness, every moment is Karttika. In this connection, there is a good example that sometimes a store gives a special concession to attract new customers. But for those who are already customers there is no need of a special sale. They will purchase at any cost if they know the important value of the goods. Similarly, those who are pure devotees do not aspire for any concession, and out of spontaneous love try to engage themselves in devotional service twenty-four hours each day, three hundred and sixty five days every year, without any stoppage."
(SPL to HH Jayapataka Swami, 30th January, 1969)
For pure devotees every day of the year is Kartika.  But what about us? Those who are yet to develop, and bestowed upon, a spontaneous love for Radhe Shyam. What  if we did not/ could not keep any vow this Kartika or what if we feel disheartened because somehow we failed to keep our vows. Not everything is lost for us. We still have a ray of hope and a very bright ray, mercy of Srimati Radharani. It would not end on the last day of Kartika, provided we take some last minute action, today.

We are aware that mercy of Srimati Radharani is readily available in Kartika. Today being the last day, we can take a vow to improve upon any of the areas where we are spiritually weak and/or continue to keep what we started in Kartika. We should earnestly pray to Srimati Radharani to please help us in that area and we take a vow to continue our vow till the beginning of next Kartika. So that it finally becomes part of my daily service. We will show our sincerity and seriousness by trying to keep that vow for Her pleasure, not to collect some pious credits or flaunt some numbers. This will please Her. This would be a proper cultivation and utilisation of Kartika. We are not looking at Kartika as some quick fix solution. Our goal should be to cultivate bhakti, spontaneous love for Radhe Shyam.
I repeat what I quoted few weeks back that the temple will be packed all through the Kartika but it is practically empty a day after Kartika, that should not be the condition of our heart. Whatever mercy we received this month should propel us ahead in bhakti. Not that Kartika is gone and we are back to the same old routine, not the best of the attitude to please Srimati Radharani.
Also at our stage it is best to keep austerities away and take vows which are based on direct limbs of bhakti.
śravaṇaṁ kīrtanaṁ viṣṇoḥ smaraṇaṁ pāda-sevanam arcanaṁ vandanaṁ dāsyaṁ sakhyam ātma-nivedanam (SB 7.5.23)
Some suggestions I am thinking for myself:
Endeavoring to carefully hear the Holy Name during my japa.
Daily read one chapter of Bhagavad Gita (takes 10-12 minutes)
Daily read Srimad Bhagavatam (HG Vasisesika Prabhu recently shared that it takes reading just 41 pages daily to complete Srimad Bhagavatam in one year! I could not believe it.)
Daily offer lamp to Tulasi Devi
Daily read the translation of Tulasi Arti after singing it.
Daily read the translation of any of the mantras ( pranam mantras, prasadam prayer, …)
Start daily Guru Puja at home

The list is endless and we can pick wherever we think we need improvement: our hearing, reading, improving relationship with Holy Name/ devotees/ guru.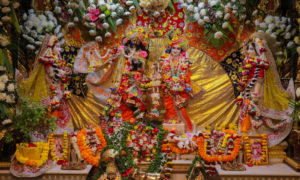 Let us look at the lotus feet of Radha Shyamsundar and pray to Them, beg Srimati Radharani and we take our vow to continue what we started in Kartika or start afresh today with a new vow to please Her lotus feet. Today is the last day of Kartika to show Srimati Radharani that we indeed have some desire to please Her and are willing to walk the talk. 
Radharani's mercy doesn't end on the last day of Kartika. It's ongoing!Let us aspire for it.

All glories to Kartika month.
All glories to Sri Guru and Gauranga.
All glories to Srila Prabhupada.