Hare Krishna
3rd, February, 2015, Gurgaon.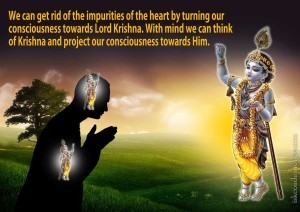 After the last blog on `demons in Krishna Lila' I thought let me share more anarthas as described in detail in Madhurya kadambini, I also took the help of VIHE book 'demons in Vrindavana Lila' to write this blog. This topic also connects with the earlier blog How to change our heart.
At one level we hear that bhakti is causeless meaning that there is no cause for bhakti (like pious deeds, austerity, penance, etc.), bhakti is independent. I heard a beautiful analogy by HH Bhakti Vijnana maharaj, he described how in the material world everything is cause' andeffect' and this is what science does it focuses on finding cause and it's effect. Bhakti, on the other hand, not being from the material wold is `causeless' !
But still in this causeless realm there is a way, described by Srila Rupa Goswami in his famous verse in Bhakti-rasāmṛta-sindhu 1.1.11, there are nine stages a devotee pass through as we advance in Krishna consciousness.
adau sraddha tatah sadhu- sango-'tha bhajana-kriya
tato'nartha nivrttih syat tato nistha ruci's tatah
athasaktis tato bhavas tatah premabhyudancati
sadhakanam ayam premnah pradhurbhave bhavet kramah
These stages are:
1. Shraddha — faith
2. Sadhu-sanga — association with devotees
3. Bhajana-kriya — trying to seriously take up the process of devotional service
4. Anartha-nivrtti — becoming free of all unwanted things
5. Nistha — steadiness in Krishna consciousness
6. Ruchi — a deep taste for Krishna consciousness
7. Asakti — attachment for Krishna
8. Bhava — ecstasy, the first rays of the sun of love for Krishna
9. Prema — pure love for Krishna
Out of all the above stages anartha-nivrtti is a very important and one of the most bumpy/bouncy/stormy stage to be crossed. There is relative calm before and after this stage but this stage is really choppy waters and troubles devotees most. This is a very important milestone in our spiritual journey and we must make all endeavour to cross it, it won't happen `automatically'.
Srila Prabhupada wrote in the purport of CC madhya-lila 23.13: "Srila Bhaktivinoda Thaura summarizes this growth of love of Godhead as a gradual process. A person becomes interested in devotional service by some good fortune. Eventually he becomes interested in pure devotional service without material contamination. At that point, a person wants to associate with devotees. As a result of this association, he becomes more and more interested in discharging devotional service and hearing and chanting. The more one is interested in hearing and chanting, the more he is purified of material contamination. Liberation from material contamination is called anartha-nivrtti, indicating a diminishing of all unwanted things. This is the test of development in devotional service….. When one is freed from all material contamination, his firm faith awakens in devotional service. When firm faith develops, a taste arises, and by that taste, one becomes attached to devotional service. When this attachment intensifies, the seed of love of Krsna fructifies…"
Hence, once one has passed through the stage of anartha-nivrtti one is able to advance more quickly.
Srila Visvanath Chakravarti Thakura explains that there are four types of anarthas, recognized according to their origins:
Anarthas arising from previous sin
Anarthas arising from previous pious activities
Anarthas arising from imperfectly performed bhakti
Anarthas arising from offenses in devotional service
Anarthas Arising From Previous Sinful Activities:
Anarthas arising from previous sin are the five types of klesas, or material sufferings:
A. Avidya — ignorance (mistaking impermanent to be permanent etc.)
B. Asmita — false ego (bodily identification and the tendency to only accept sense perception)
C. Raaga — attachment (the desire for material happiness and the means to achieve it)
D. Dvesa — hatred (of unhappiness and the causes of it)
E. Abhinivesa — acquired nature (absorption in bodily existence, including fear of death)
Anarthas Arising From Previous Pious Activities:
Anarthas arising from previous pious activities are attachments to the enjoyments which arise from pious action.
Anarthas Arising From The Improper Performance Of Bhakti:
Anarthas arising from improper performance of devotional service are a little more subtle, Srila Visvanath Cakravarti Thakura says that, just as, along with the main plant, many weeds grow, similarly, by the cultivation of bhakti there appears acquisition of material wealth and other facilities, worship and respect by others, a comfortable position, fame etc. By their very nature, they have the power to influence the heart of the devotee, grow in size,and cover up the main plant intended for cultivation, bhakti. (these do not include seva aparadhas).

Anarthas Arising From Offenses:
Anarthas arising from offenses in devotional service are the ten offenses against the chanting of the holy names: These are standard 10 offenses against the Holy Name, which most of us read every day before starting our rounds. I am not writing them here to save the space.
Seva aparadhas do not fit into this category, because they are normally overcome in the course of the performance of one's devotional service, due to the potency of the devotional activities. Some example of seva aparadhas are entering the temple with shoes, not offering the arti or bhoga in time to the deities, etc.
However, if one commits seva aparadhas knowingly, that becomes the seventh offense against the chanting of the holy names.
A person who commits nama aparadha loses the mercy of the Lord in the form of His name, and therefore suffers in many ways, but if such a person humbly takes the appropriate remedial methods for his offenses (there are recommended remedies for each of the ten types) then he is able to gradually get the mercy of the name again, and his diseased condition is relieved.
The last and the most damaging aparadh is vaishanava Apradha. I will write about it in a separate blog, it commands top position in apradhas, and can even destroy our bhakti.
On a positive note this is what Srila Prabhupada writes we should do when we cross the stage of anartha-nivrtti :
`By His practical activity, Śrī Caitanya Mahāprabhu informed us how to cleanse our hearts. Once the heart is cleansed, we should invite Lord Śrī Kṛṣṇa to sit down, and we should observe the festival by distributing prasādam and chanting the Hare Kṛṣṇa mahā-mantra. Śrī Caitanya Mahāprabhu used to teach every devotee by His personal behavior. Everyone who spreads the cult of Śrī Caitanya Mahāprabhu accepts a similar responsibility…The Lord was very pleased with those who could cleanse the temple by taking out undesirable things accumulated within. This is called anartha-nivṛtti, cleansing the heart of all unwanted things. Thus the cleansing of the Guṇḍicā-mandira was conducted by Śrī Caitanya Mahāprabhu to let us know how the heart should be cleansed and soothed to receive Lord Śrī Kṛṣṇa and enable Him to sit within the heart without disturbance.'
All glories to Srila Visvanath Chakravarti Thakura.
All glories to Sri Guru and Gauranga.
All glories to Srila Prabhupada.