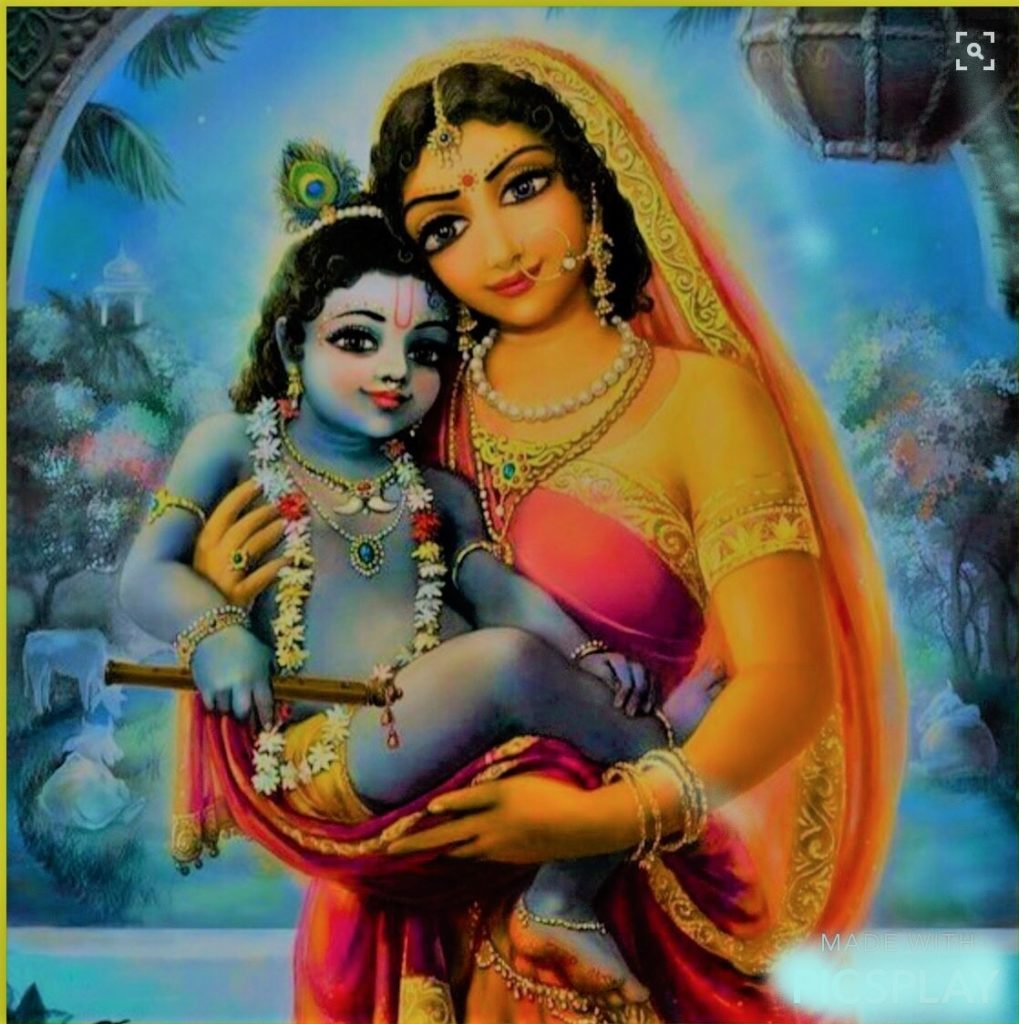 जन्म कर्म च मे दिव्यमेवं यो वेत्ति तत्त्वतः।
त्यक्त्वा देहं पुनर्जन्म नैति मामेति सोऽर्जुन।।
One who knows the transcendental nature of My appearance and activities does not, upon leaving the body, take his birth again in this material world, but attains My eternal abode, O Arjuna.
The Time
At the end of Dvapara-yuga, which completely destroys faults and doubts, an auspicious, favorable,  obstacle-free time appeared on the eighth day of the waning moon in Bhadra  month. Just at that sweet moment the Rohini Naksatra, along with the good  qualities of the moon and an auspicious conjunction of stars called  Ayusman, appeared in the sky to give shelter to gentle persons.
Baby Krishna takes birth in Gokula
Everyone in the maternity room swelled with joy upon seeing the Lord's exquisite transcendental form that looked like a creeper of beauty.
Mother Yasoda resembled a lake of spiritual ecstasy in which a brilliant blue lotus of personified bliss had appeared. Neither the wind nor the bees relished the fragrance of that blue lotus. That unborn lotus was never touched by the waves of the modes of nature. Even Lord Brahma could not see it, what to speak of ordinary men.
After Yasoda and her family members fell asleep in the maternity room, Hari cried beautifully like a newborn baby. His crying sounded like the maha-vakya omkara announcing the auspicious arrival of His pastimes. Omkara is a transcendental vibration that had previously emanated from the mouth of Lord Brahma. When the ladies of Vrindavana heard the sweet sound of Krishna's crying, they woke up and ran to see the Lord. With the mellow of their matchless overflowing affection they anointed His body.
Baby Krishna is tenderness personified
The natural fragrance of Krishna's body smelled just like musk. After the ladies bathed Krishna in sweet ambrosia, He looked cleansed and beautiful. Then they smeared His body with fragrant sandalwood pulp. The presiding deity of the house sent a campaka flower resembling the flame of a lamp into the maternity room to worship that ornament of the three worlds.
With the strength of His little arms, delicate as the tender leaves of a tree, Krishna made all the lamps in the maternity room look like a garland of lotus flower buds. The ladies of Vrindavana saw baby Krishna like a blossoming flower made of the best of blue sapphires, or like a newly unfurled leaf of a tamala tree. Krishna looked like a fresh rain cloud decorated with the musk tilaka of the goddess of fortune of the three worlds. The ointment of the greatest auspiciousness lined His eyes. His presence filled the maternity room with good fortune. Although a mere baby, Krishna had a head full of curly hair. To hide the unique signs on His hands (goad, fish, conch etc.) the Lord folded His delicate petal-like fingers into His lotus palm. At that time Krishna laid on His back with His eyes closed.
Mother Yasoda and baby Krishna
Mother Yasoda awoke amidst the joyous chattering of the elderly gopis. Leaning over the bed she admired her gorgeous son. But upon noticing her own reflection on Krishna's body, she imagined it another woman. Thinking that a witch had assumed her form to kidnap Krishna, Yasoda became bewildered and yelled, "Get out of here! You go away!" Spontaneously she cried out to Narsimhadeva to protect her precious son.
Beholding Krishna's tender face, Yasoda showered tears of affection that looked like an offering of a pearl necklace. Yasoda saw Krishna's body as a mound of dark blue musk, softer than the butter churned from the milk ocean. Overflowing with nectar, His charming body appeared like the foam of milk, but being dark blue in color it seemed the foam was full of musk juice. Admiring the supremely delicate form of her son, Yasoda worried about His safety and feared the touch of her body might hurt his tender body.
As she leaned over the bed Yasoda bathed Krishna with the milk dripping from her breasts. The elderly gopis instructed Yasoda how to caress the baby in her lap, and affectionately push the nipple of her breast into Krishna's  mouth to feed Him. Due to Yasoda's intense love, personified bliss flowed  from her breasts as steady streams of milk. When milk sometimes spilled  out of Krishna's bimba fruit red lips onto His cheeks, Mother Yasoda would wipe His face with the edge of her cloth. After feeding her son, Yasoda gazed affectionately at Him in wonder.
Alluring form of baby Krishna
She saw her child's body as made of dazzling blue sapphires. His mouth resembled a red bimbafruit and His hands and feet looked like exquisite rubies. Krishna's nails shone like precious gems. In this way, Yasoda thought her child was completely made of jewels. Then she perceived that His naturally reddish lips looked like bandhuka flowers, His hands and feel resembled Java flowers, His nails looked like mallika flowers. Yasoda then thought, "Krishna's whole body seems to be made of blue lotus flowers. He does not appear to be mine." After thus deliberating within herself Yasoda became stunned in amazement.
The beautiful, soft curly hairs on the right side of Krishna's chest resembled the tender stems of a lotus. Seeing the mark of Srivatsa on His chest Yasoda thought it was breast milk that had previously spilled out of His mouth. She tried unsuccessfully to remove these 'milk stains' with the edge of her cloth. Struck with wonder, Yasoda thought this must be the sign of a great personality.
Observing the sign of Lakshmi (a small golden line) on the left side of Krishna's chest, Yasoda thought a small yellow bee had made a nest amidst the leaves of a tamala tree. Could this be a streak of lightning resting on a rain cloud, or could it be the golden streaks marking a black gold-testing stone? Krishna's delicate, leaf-like hands and fee glowing pink like the rising sun, looked like clusters of lotus flowers flowing in the Yamuna.
Baby Krishna's captivating beauty
Sometimes Yasoda saw the curly, dark blue locks of baby Krishna as swarm of bumblebees surrounding His face. Intoxicated from drinking too much honey nectar, the bees just hovered in the sky. His thick, beautiful blue hair appeared like the dark night. The two lotus eyes of Krishna looked like a pair of blue lotus buds. His cheeks resembled two huge bubbles floating in a lake of liquefied blue sapphires. Krishna's attractive ears looked like a pair of fresh unfurled leaves growing on a blue creeper.
The tip of Krishna's dark nose appeared like the sprout of a tree, and His nostrils looked like bubbles in the Yamuna River, the daughter of the sun god. His lips resembled a pair of red Java flower buds. Krishna's chin rivaled a pair of ripe, red jambu fruits. Seeing the extraordinary beauty of her son fulfilled the purpose of her eyes and submerged Yasoda in an ocean of bliss.
(Ananda Vrindavana Champu, chapter 2)
Please accept my very warm good wishes and prayers for a very auspicious Janmashtami.
All glories to the charming beauty of baby Krishna.
All glories to Sri Guru and Gauranga
All glories to Srila Prabhupada.
Your servant,
Giriraj dasa