Hare Krishna.
22nd April, 2015, Shanghai.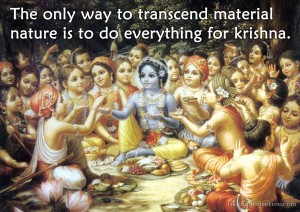 Q: What should we do if we have material desires ?
Answer : One should follow proper Vedic injunctions and advance gradually.
Srila Prabhupada writes in his purport of SB 3.21.16 that  It is everyone's duty, therefore, to enjoy according to his present position, but under the direction of the Lord or the Vedas. The Vedas are considered to be the direct words of the Lord. The Lord gives us the opportunity to enjoy material life as we want, and at the same time He gives directions for the modes and processes of abiding by the Vedas so that gradually one may be elevated to liberation from material bondage. The conditioned souls who have come to the material world to fulfill their desires to lord it over material nature are bound by the laws of nature. The best course is to abide by the Vedic rules; that will help one to be gradually elevated to liberation.….. Therefore one should follow the Vedic regulations and surrender unto the Supreme Lord because that is the ultimate goal of perfection in human life. One should live a life of piety, follow the religious rules and regulations, marry and live peacefully for elevation to the higher status of spiritual realization.
Q: What is cause of suffering in material life, describe with an example and how to overcome this cycle of birth & death  ? 
Answer : Srila Prabhupada writes in his purport of SB 3.21.17 that Constant transmigration of the soul from one body to another is the cause of suffering in material existence. This conditional life in material existence is called saṁsāra. One may perform good work and take his birth in a very nice material condition, but the process under which birth and death take place is like a terrible fire.
Śrī Viśvanātha Cakravartī Ṭhākura, in his prayer to the spiritual master, has described this. Saṁsāra, or the repetition of birth and death, is compared to a forest fire. A forest fire takes place automatically, without anyone's endeavor, by the friction of dried wood, and no fire department or sympathetic person can extinguish it. The raging forest fire can be extinguished only when there is a constant downpour of water from a cloud. The cloud is compared to the mercy of the spiritual master. By the grace of the spiritual master the cloud of the mercy of the Personality of Godhead is brought in, and then only, when the rains of Kṛṣṇa consciousness fall, can the fire of material existence be extinguished. This is also explained here.
In order to find freedom from the stereotyped conditional life of material existence, one has to take shelter of the lotus feet of the Lord, not in the manner in which the impersonalists indulge, but in devotional service, chanting and hearing of the activities of the Lord. Only then can one be freed from the actions and reactions of material existence. It is recommended here that one should give up the conditional life of this material world and the association of so-called civilized human beings who are simply following, in a polished way, the same stereotyped principles of eating, sleeping, defending and mating. Chanting and hearing of the glories of the Lord is described here as tvad-guṇa-vāda-sīdhu. Only by drinking the nectar of chanting and hearing the pastimes of the Lord can one forget the intoxication of material existence.
Q: Does Lord fulfills material desires of a devotee  ?
A: Sila Prabhupada states in his purport of SB 3.21.23 that He never disappoints a sincere devotee, regardless of what he wants, but He never allows anything which will be detrimental to the individual's devotional service.
Q : How can we make our existence peaceful in this material world ?
Ans : By depending fully on Krishna for fulfillment of our desires.

Srila Prabhupada explains us in his purport of SB 3.21.28 that `Thus it is said that if we pray to the Supreme Lord in every transaction of our material existence, everything will be done very nicely and just suitable to our heart's desire. In other words, in all circumstances we must take shelter of the Supreme Personality of Godhead and depend completely on His decision. Man proposes, God disposes. The fulfillment of desires, therefore, should be entrusted to the Supreme Personality of Godhead; that is the nicest solution. Kardama Muni desired only a wife, but because he was a devotee of the Lord, the Lord selected a wife for him who was the Emperor's daughter, a princess. Thus Kardama Muni got a wife beyond his expectation. If we depend on the choice of the Supreme Personality of Godhead, we will receive benedictions in greater opulence than we desire'.
Q: Why is a Jiva  also described as Prabhu ?
Reply: Srila Prabhupada gives us a unique answer in his purport  to SB 6.16.9:  Another peculiar characteristic of the jīva is that he becomes covered by māyā. Ātmamāyā-guṇaiḥ: he is prone to being covered by the Supreme Lord's illusory energy. The living entity is responsible for his conditional life in the material world, and therefore he is described as prabhu ("the master"). If he likes he can come to this material world, and if he likes he can return home, back to Godhead.
I recently found that apart from audio lectures, iskcondesiretree has hundreds of very nice presentations, both for our own understanding as well as for preaching. They are mostly in flash but we can request them in PPT and the dedicated devotees send us the link to download them and edit them to suit our purpose. They have proved very useful for me in preaching. Here is the link
http://presentations.iskcondesiretree.com
I wish all the readers a very auspicious Akshay Tritiya, I prayed for everyone that may each one of us get a service which is pleasing to Krishna and His devotees.
All glories to Sri Guru and Gauranga.
All glories to Srila Prabhupada.