Hare Krishna.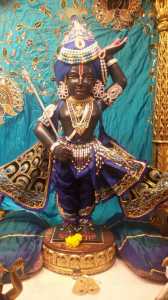 During his last trip I told Guru Maharaja that we hardly get to spend any time with him, even when he comes to Gurgaon he is always so busy. I mentioned how Priti remarked the other day that it will be better to take a flight with Guru Maharaja from Kolkatta to Delhi. He invited us to fly with him to Surat and spend time with him. At first I thought he must be joking but then knowing him a little I knew he would not make any casual remark. We had renovations happening at our new apartment, we gave the labour the weekend off, sent the kids to grandparents and off we went to Surat. Guru Maharaj met us at the airport, he was flying from Patna. Anand Prabhu was with him, joining for us for Surat.
I didn't get to sit with Guru Maharaja as they had checked in before us.
Surat holds a special place in my heart. I was here in last January to attend Guru Maharaj's seminar on Brahma Samhita. I'd stayed at Sri Sri Radha Damodar temple, its right on the bank of river Tapti. The temple has very beautiful deities and has wide open areas around it.  I was very fortunate to get association of a very senior devotee HG Nanda Vraja Dasa from Auckland that time, as his room partner. He gave me many practical suggestions to improve my sadhna bhakti, which I followed and reaped the benefits.
While we landed at Surat airport and waited for the luggage to arrive, Guru Maharaj walked straight out to a loud sankirtan by devotees. They were outside but every one in the airport could hear their enthusiastic kirtan. It was a rousing welcome.
We too were very warmly welcomed by the devotees when we came out. We were staying at a devotee's home in the same complex where Guru Maharaja was staying so it was very convenient.
All the devotees were very warm & welcoming, within half an hour Guru maharaja was giving his first class. From Friday evening till Sunday evening, he gave classes almost 4-5 times a day. And in times between his preaching, traveling and meetings he was served like a king  by the local devotees. Guru Maharaja stayed with us for a day before leaving for Patna, we were to shame by the hospitality of Surat devotees.  Everything was A grade and very well planned.  We promised ourselves to rise to their benchmark whenever Guru Maharaja visits us next time.
The devotees themselves seemed a very tightly knit group led by HG Mukund Priya Prabhuji and his wife. They left no stone unturned for Maharaja. They were ably supported by other local devotees. It all seemed like a clipping from one of the Suraj Barjatia's big festivity film scenes with a spiritual twist and Guru maharaja at the center.
I don't know how those two days passed but they seemed more like three or four days as something was always happening. We visited Sri Sri Radha Damodar temple and took darshan of the beautiful deities on Sunday.
I bring very warm memories of this trip and will cherish them for a long period. We got constant association of Guru Maharaj and met such warm, happy and enthusiastic group of devotees. My humble obeisances and many thanks to Vijay prabhuji, Mukesh Prabhuji,  Vishambhar Prabhuji and so many other prabhujis and matajis whose name I don't remember but whose hospitality we enjoyed shamelessly.
I will discuss another beautiful realisation at Surat in a separate blog.
All Glories to Guru Maharaja.
All Glories to Sri Guru and Gauranga.