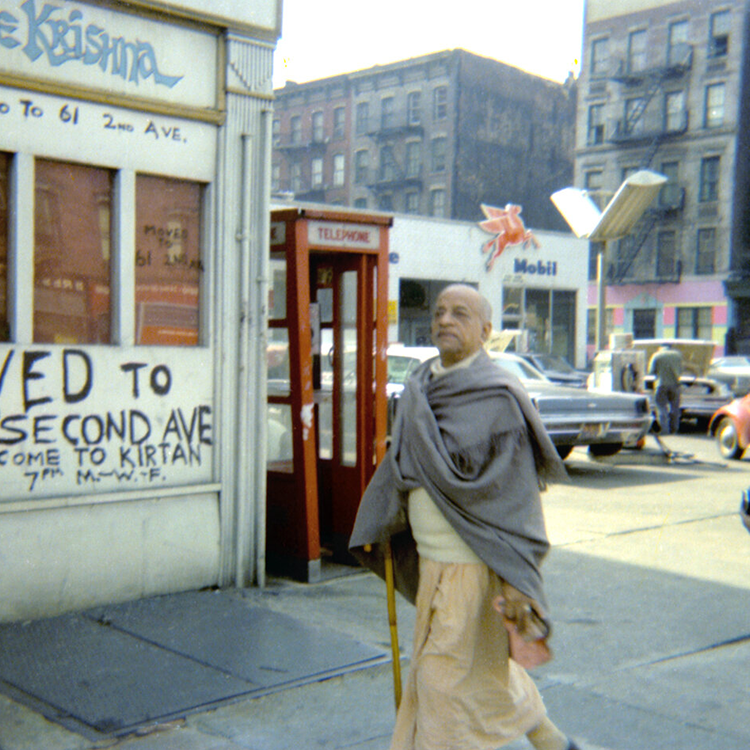 Hare Krishna,
Happy Rath Yatra festival!
Today is a special day when the world received a matchless gift! On this date, 1st July 1966, Srila Prabhupada entered the new storefront at 26, 2nd Avenue in New York, USA. It was the beginning of the unfolding of Sri Caitanya Mahaprabhu's plan to plant the seed of Krishna consciousness all over the world. Srila Prabhupada immediately started conducting regular classes from this storefront and within two weeks he incorporated ISKCON on 13th July 1966. From this small storefront, Srila Prabhupada launched the worldwide Hare Krishna movement.
Below is the excerpt from the diary of Srila Prabhupada on 1st July 1966-
Friday 1 July
Chaturdasi: Sunrise 4/35 Sunset 7/32 Moonsets 4.07
Today I entered the new house at 26 Second Avenue rear portion Room #B1. For my purpose it all good. I do not why Krishna is trying to establish me in New York. I am his servant's servant and therefore let His desire be fulfilled through my agency.
The Landlord Mr. Gardiner is pukka landlord. He knows how to increase the rent. But I am not sorry. For two months namely July and August I will have to pay at 62 and odds whereas from September 1st I will have to pay $71 and odds. Let me see how Krishna arranges the things.
In the evening there was meeting in the New Store. There was about eight men Collection $5.50. Book Collection 4.00
The whole day I waited for Con Edison but they did not
Telephone duly installed The New Number 674-7428
Expenditure (?) .50 c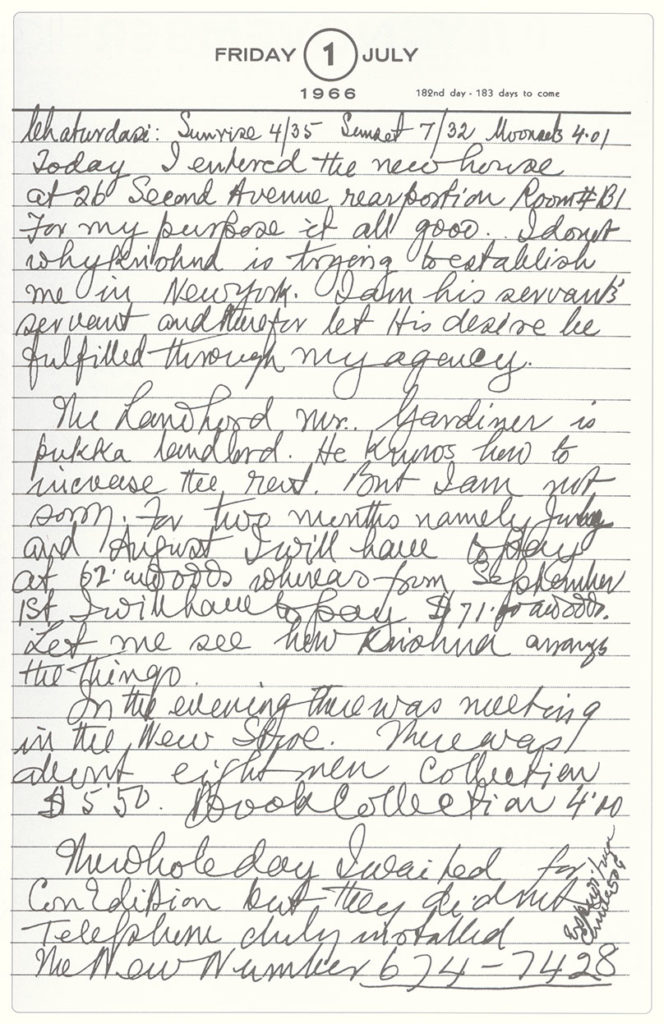 The journey to the Matchless gift store
Mr. Gardiner took a week to paint the apartment. Meanwhile, Mike arranged for the electricity and water to be turned on and had a phone installed, and he and Carl raised the first month's rent among their friends. When everything was ready, Mike gave Prabhupāda a call at Carl's.
Now it was time to move the Swami into his new place. A few friends who were on hand accompanied the Swami over to the Bowery loft. Maybe they weren't prepared to become his surrendered disciples, but contributing toward the first month's rent and volunteering a few hours of work to help set up his place were exactly the kinds of things they could do very willingly.
At the loft, they all gathered up portions of the Swami's belongings, and then they started out on foot up Bowery. It was like a safari, a caravan of half a dozen men loaded with Prabhupāda's things. Michael carried the heavy Roberts reel-to-reel, and even the Swami carried two suitcases. They did everything so quickly that it wasn't until they were well on their way and Mike's arm began to ache that he realized, "Why didn't we bring a car?"
It was the end of June, and a hazy summer sun poured its heat down into the Bowery jungle. Starting and stopping, the strange safari, stretching for over a block, slowly trekked along. Prabhupāda struggled with his suitcases, past the seemingly unending row of restaurant supply shops and lamp stores between Grand, Broome, and Spring streets. Sometimes he paused and rested, setting his suitcases down. He was finally moving from the Bowery. …
The Swami and his young friends reached the corner of Bowery and Houston, turned right, and proceeded east. Gazing steadily ahead as he walked, Prabhupāda saw the southern end of Second Avenue, one block away. At Second Avenue he would turn left, walk just one block north across First Street, and arrive at his new home. As he passed the IND subway entrance, the storefront came into view – "Matchless Gifts." He gripped his suitcases and moved ahead.
There was no certainty of what awaited him here. But already there had been good signs that these American young people, mad though they sometimes were, could actually take part in Lord Caitanya's saṅkīrtana movement. Perhaps this new address would be the place where he could actually get a footing with his International Society for Krishna Consciousness.
(Srila Prabhupada Lilamrta, chapter 17)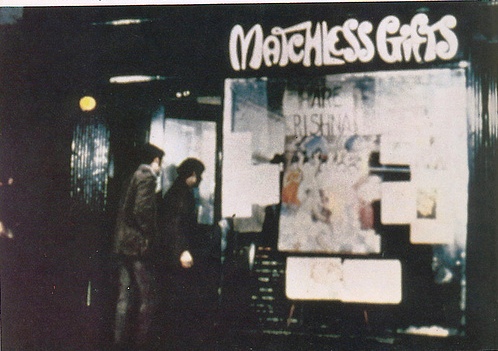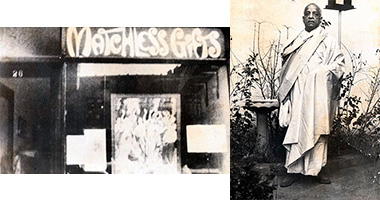 (The unusual hand-painted sign – Matchless Gifts – was a holdover from when the place had been a gift shop. On the right, Srila Prabhupada is standing in the courtyard between the storefront and his apartment.)
All the members and well-wishers of Hare Krishna movement can appreciate the significance of this date when Srila Prabhupada moved into this storefront and gave the world the matchless gift of Krishna consciousness.
All glories to Srila Prabhupada.
Your servant,
Giriraj dasa