Hare Krishna.
24th January.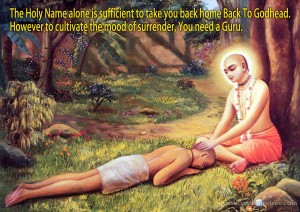 I am continuing the series of Q&A which I take out from Srila Prabhuapada's translations and purports.
Q: How can we ignite the dormant love for Krishna in our heart ?
A: By associating with devotees.
Srila Prabhupada writes in his purport of cc madhya 19 151
"Everyone has dormant kṛṣṇa-bhakti — love for Kṛṣṇa — and in the association of good devotees, that love is revealed. As stated in the Caitanya-caritāmṛta (Madhya 22.107):
nitya-siddha-kṛṣṇa-prema 'sādhya' kabhu naya śravaṇādi-śuddha-citte karaye udaya
Dormant devotional service to Kṛṣṇa is within everyone. Simply by associating with devotees, hearing their good instructions and chanting the Hare Kṛṣṇa mantra, dormant love for Kṛṣṇa is awakened. In this way one acquires the seed of devotional service. Guru-kṛṣṇa-prasāde pāya bhakti-latā-bīja."
Q: Who is an Aryan ?
A: One who chants the Holy name is an Aryan.
Srila Prabhupada translates the below verse from SB 3.33.7 quoted in CC madhya 19.72 as
"'My dear Lord, one who always keeps Your holy name on his tongue becomes greater than an initiated brāhmaṇa. Although he may be born in a family of dog-eaters and may therefore, by material calculation, be the lowest among men, he is still glorious. This is the wonderful effect of chanting the holy name of the Lord. It is therefore concluded that one who chants the holy name of the Lord should be understood to have performed all kinds of austerities and great sacrifices mentioned in the Vedas. He has already taken his bath in all the holy places of pilgrimage, he has studied all the Vedas, and he is actually an Aryan.'"
This verse was quoted by Vallabha Bhaṭṭācārya when MahaPrabhu tells him not to touch Roop and Sanatana Goswami as he is a high caste Brahmin.
Srila Prabhupada explains in the purport of SB 3.33.7
"The word juhuvuḥ means that the chanters of the holy name have already performed all kinds of sacrifices. Sasnuḥ means that they have already traveled to all the holy places of pilgrimage and taken part in purificatory activities at those places. They are called āryāḥ because they have already finished all these requirements, and therefore they must be among the Āryans or those who have qualified themselves to become Āryans. "Āryan" refers to those who are civilized, whose manners are regulated according to the Vedic rituals. Any devotee who is chanting the holy name of the Lord is the best kind of Āryan. Unless one studies the Vedas, one cannot become an Āryan, but it is automatically understood that the chanters have already studied all the Vedic literature.."
Q: How does one know what does Krishna wants us to do ?
A:  By surrendering to a bona fide representative of Krishna.
Srila Prabhupada explains in cc madhya 19. 167
"The criterion is that a devotee must know what Kṛṣṇa wants him to do. This understanding can be achieved through the medium of a spiritual master who is a bona fide representative of Kṛṣṇa. Śrīla Rūpa Gosvāmī advises, ādau gurv-āśrayam. One who is serious in wanting to render pure devotional service to the Lord must take shelter of a spiritual master who comes in the disciplic succession from Kṛṣṇa. Evaṁ paramparā-prāptam imaṁ rājarṣayo viduḥ [Bg. 4.2]. Without accepting a bona fide spiritual master coming in the disciplic succession, one cannot find out the real purpose of devotional service. Therefore one has to accept the shelter of a bona fide spiritual master and agree to be directed by him."
All glories to Srila Prabhupada
All glories to Sri Guru and Gauranga.