Hare Krishna
29th March, 2015. Gurgaon.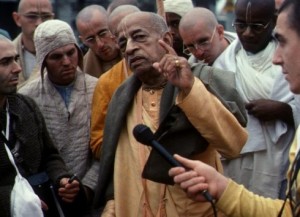 Q: Whose service Krishna appreciates more, Laxmiji or  Tulasi Devi and why ?
Ans:  Srila Prabhupada explains it in his purport of SB 3.16.21
It is said in the Brahma-saṁhitā that the Lord is always served by many hundreds of thousands of goddesses of fortune in His Vaikuṇṭha planet, yet because of His attitude of renunciation of all opulences, He is not attached to any one of them. The Lord has six opulences — unlimited wealth, unlimited fame, unlimited strength, unlimited beauty, unlimited knowledge and unlimited renunciation. All the demigods and other living entities worship Lakṣmī, the goddess of fortune, just to get her favor, yet the Lord is never attached to her because He can create an unlimited number of such goddesses for His transcendental service. The goddess of fortune, Lakṣmī, is sometimes envious of the tulasī leaves which are placed at the lotus feet of the Lord, for they remain fixed there and do not move, whereas Lakṣmījī, although stationed by the chest of the Lord, sometimes has to please other devotees who pray for her favor. Lakṣmījī sometimes has to go to satisfy her numerous devotees, but tulasī leaves never forsake their position, and the Lord therefore appreciates the service of the tulasī more than the service of Lakṣmī. …we can understand that Lakṣmījī is attracted by the opulence of the Lord.
Q: What is the destination of different types of yogis ?

Ans : Srila Prabhupada writes in his purport to SB 3.16.19
There are many kinds of mystics, such as the karma-yogī, jñāna-yogī, dhyāna-yogī and bhakti-yogī. The karmīs particularly search after the favor of the demigods, the jñānīs want to become one with the Supreme Absolute Truth, and the yogīs are satisfied simply by partial vision of the Supreme Personality of Godhead, Paramātmā, and ultimately by oneness with Him. But the bhaktas, the devotees, want to associate with the Supreme Personality of Godhead eternally and serve Him. It has already been admitted that the Lord is eternal, and those who want the favor of the Supreme Lord perpetually are also eternal.
Q: How should we look at a devotee who is practicing Krishna consciousness but still has faults in him. 
Ans. He is to be considered purified!
Srila Prabhupada explains in his purport of SB 3.16.6
Anyone who takes to Kṛṣṇa consciousness in all sincerity, even if he is not very advanced in good behavior, is purified. A devotee can be recruited from any section of human society, although it is not expected that everyone in all segments of society is well behaved. As stated in this verse and in many places in Bhagavad-gītā, even if one is not born in a brāhmaṇa family, or even if he is born in a family of caṇḍālas, if he simply takes to Kṛṣṇa consciousness he is immediately purified.
In Bhagavad-gītā, Ninth Chapter, verses 30-32, it is clearly stated that even though a man is not well behaved, if he simply takes to Kṛṣṇa consciousness he is understood to be a saintly person. As long as a person is in this material world he has two different relationships in his dealings with others — one relationship pertains to the body, and the other pertains to the spirit. As far as bodily affairs or social activities are concerned, although a person is purified on the spiritual platform, it is sometimes seen that he acts in terms of his bodily relationships.
If a devotee born in the family of a caṇḍāla (the lowest caste) is sometimes found engaged in his habitual activities, he is not to be considered a caṇḍāla. In other words, a Vaiṣṇava should not be evaluated in terms of his body…..because anyone who takes to Kṛṣṇa consciousness is understood to be fully purified. He is at least engaged in the process of purification, and if he sticks to the principle of Kṛṣṇa consciousness he will very soon be fully purified. The conclusion is that if one takes to Kṛṣṇa consciousness with all seriousness, he is to be understood as already purified, and Kṛṣṇa is ready to give him protection by all means.
Q: Why it is said that one who becomes a Vaishnava is already a Brahmana ?
Ans: Srila Prabhupada explains it in his purport of SB 3.16.4
One who has become a devotee of the Lord is also a brāhmaṇa. The formula is brahma jānātīti brāhmaṇaḥ. A brāhmaṇa is one who has understood Brahman, and a Vaiṣṇava is one who has understood the personality of Godhead. Brahman realization is the beginning of realization of the Personality of Godhead. One who understands the Personality of Godhead also knows the impersonal feature of the Supreme, which is Brahman. Therefore one who becomes a Vaiṣṇava is already a brāhmaṇa.
Q: Does Krishna help His devotees who have difficulty in seeing Krishna as a person ? Give two examples. 
Ans: Yes, examples are four Kumaras and Haridas Thakura
Srila Prabhupada writes in the purport of 3.16.2
The Lord's presence on the spot was very pleasing to the hearts of the devotees. The Lord understood that the trouble was due to His lotus feet not being seen by the sages, and therefore He wanted to please them by personally going there. The Lord is so merciful that even if there is some impediment for the devotee, He Himself manages matters in such a way that the devotee is not bereft of having audience at His lotus feet.
There is a very good example in the life of Haridāsa Ṭhākura. When Caitanya Mahāprabhu was residing at Jagannātha purī, Haridāsa Ṭhākura, who happened to be Muhammadan by birth, was with Him. In Hindu temples, especially in those days, no one but a Hindu was allowed to enter. Although Haridāsa Ṭhākura was the greatest of all Hindus in his behavior, he considered himself a Muhammadan and did not enter the temple. Lord Caitanya could understand his humility, and since he did not go to see the temple, Lord Caitanya Himself, who is nondifferent from Jagannātha, used to come and sit with Haridāsa Ṭhākura daily. Here in Śrīmad-Bhāgavatam we also find this same behavior of the Lord. His devotees were prevented from seeing His lotus feet, but the Lord Himself came to see them on the same lotus feet for which they aspired.
All glories to the amazing purports of Srila Prabhupada.
All glories to Sri Guru and Gauranga.
All glories to Srila Prabhupada.