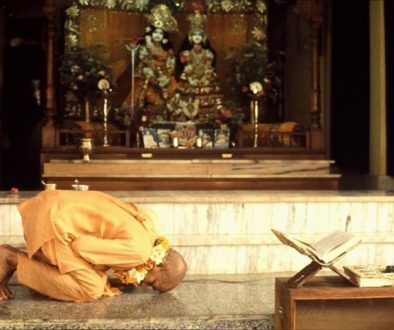 Hare Krishna and pranams dear devotees,
In the last blog we read the personal prayer 'Good Morning Thakuraji' written by HG Srimati mataji for struggling devotees like us. I hope some of us have started reading it daily to our Thakuraji. I am myself trying to read it daily and it is making some difference in my consciousness. At the least, I know what to pray.
Today I am posting the second prayer, written by HG Srimati mataji. This is the prayer to read out aloud to our Thakuraji before we leave our home for office, preaching, temple service, household chores, etc. The overall mood is the same as that in the first prayer but now the feeling of dependence has increased as we are ready to move out ftom the shelter of our ashrama (home) into the material world.
I humbly pray that by reciting this prayer to Thakuraji our heart gets churned and it becomes a suitable recipient for the mercy of Krishna.
All glories to Srila Prabhupada.
Your servant,
Giriraj dasa
Thakuraji-Part-2